LG to show super-slim set at CES
...with 2,000,000:1 contrast ratio!
LG is gunning to make itself one of the tech firms to watch this year, following its release of details concerning an upcoming super telly: the 55in LH9500.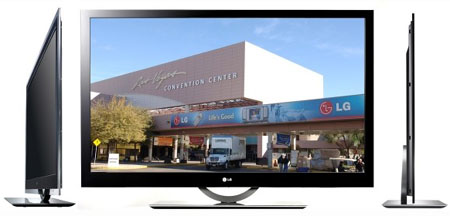 LG's LH9500 is just 24.8mm thick
The LH9500 LCD, which has been spotted by several online sources, is a meagre 24.8mm thick, yet still boasts 1080p and a 2,000,000:1 contrast ratio. Its 240Hz TrueMotion Drive Technology is also 40Hz faster than the frame rate available on Sony's Z4500 TV.
Although LG hasn't released the set's full specifications yet, we do know that DivX HD support is integrated into the set.
It also features a pair of "invisible" speakers that are claimed to provide stunning sound without adding unnecessary bulk to the body.
Although a price hasn't been released, don't expect the screen to be cheap. LG's expected to officially unveil the LH9500 this week at the Consumer Electronics Show in Las Vegas. ®