This article is more than 1 year old
Beeb names new Doctor Who
Matt Smith handed keys to Tardis
The BBC has announced that 26-year-old Matt Smith will be the 11th Doctor Who, hitting screens in the fifth series in 2010 as the youngest actor* to tackle the role.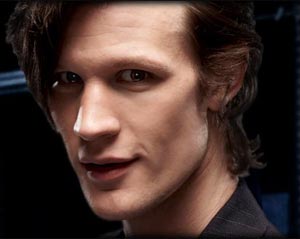 According to Piers Wenger, head of drama at BBC Wales, Smith's audition immediately marked him as the next Time Lord. He said: "It was abundantly clear that he had that 'Doctor-ness' about him. You are either the Doctor or you are not. It's just the beginning of the journey for Matt.
"With Steven Moffat's scripts and the expertise of the production team in Cardiff behind him, there is no one more perfect to be taking the Tardis to exciting new futures when the series returns in 2010."
Smith (pictured) enthused: "I feel proud and honoured to have been given this opportunity to join a team of people that has worked so tirelessly to make the show so thrilling. David Tennant has made the role his own, brilliantly, with grace, talent and persistent dedication. I hope to learn from the standards set by him.
"The challenge for me is to do justice to the show's illustrious past, my predecessors, and most importantly, to those who watch it. I really cannot wait."
David Tennant will film four Who specials during 2009, while Smith will beging filming on series five in the summer. His previous TV work includes the 2006 adaptation of The Ruby in the Smoke and political drama Party Animals. He's also graced the boards of the Royal Court and National Theatre.
Regarding just who will be Smith's companion, Wenger said: "Having got the casting of the Doctor out of the way, the companion role is where we will be looking next. Someone terribly exciting like Billie Piper, who was at the beginning of her acting career but who had a profile for other reasons, would be great. We are looking for someone whose light can burn brightly."
According to various news sources, the BBC is eyeing singer Lily Allen and Strictly Come Dancing stars Rachel Stevens and Kelly Brook. Wenger admitted: "We would never cast anyone on the basis of their celebrity, but if Lily wanted to audition we would be delighted. It would be a lot of fun."
The Beeb has more on the new Doc, including a video interview, here. ®
Bootnote
*The BBC says that Smith "is three years younger than Peter Davison when he signed up to play the fifth Doctor in 1981". There's a full list of all the doctors here.