Sun offers free GlassFish education
Repeats download model
The secret to business according to Sun Microsystems' chief executive Jonathan Schwartz is to first build volume and then figure out how to make money from the audience you've created.
That's what he told a small audience attending last November's long-awaited JavaFX launch, and it's the mantra driving Sun's software strategy for the last few years.
Now that thinking has found its way into training and services - hitherto one area where becalmed software companies could at least hope to make some easy money.
Sun is offering free training for people who go the extra mile once they've downloaded their copy of Sun's free, open-source GlassFish Java application server and register the product.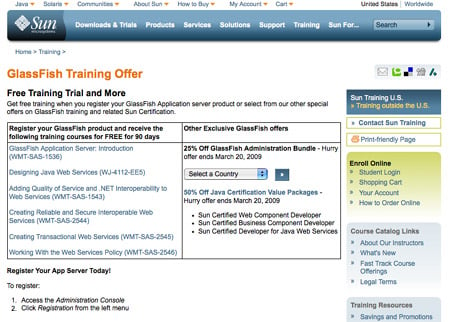 Roll-up, roll-up - or not: free GlassFish training
Free training covers designing Java web services, adding quality of services and .NET interoperability, and building transactional web services. You've got until March 20 to also get a quarter off of Sun's GlassFish Administration Bundle, a nine-hour course priced at $820.
Sun has claimed millions of GlassFish downloads. If Sun is to be believed, these downloads have not translated into a market that Sun's been monetizing judging by its numbers. From a product-licensing perspective, companies are not paying Sun.
That's seen Sun try to tempt them out with an all-you-can eat model of licensing: you can, for example, get GlassFish Enterprise Unlimited starting at $25,000 for an unlimited number of instances.
When it comes to training and support, the free offer is intended to make all those unregistered consumers of GlassFish turn to Sun for their education.
Traditionally, training and support for enterprise products such as application servers has provided a decent and reasonably predictable source of revenue for enterprise software companies. That's particularly been the case when growth from actual sales of products has stalled.
Such training should prove particularly important for a modular platform like GlassFish, which is - theoretically - infinitely configurable and, therefore, infinitely confusing to the user.
If people aren't taking advantage of the all-you-can eat licensing model, though, then it seems they will also be unwilling to adopt free training. First off: why get trained in a product you and no one else is using? And secondly: Sun is coming against the great problem inherent in open-source that others have also struck: people will Google and support themselves first before - finally - deciding to fork out any money and pay their vendor. ®