Lenovo prices up dual-screen ThinkPad
Watch films while typing emails
Two heads are better than one, but does the same apply for two laptop screens? If you want to see for yourself your pockets had better be deep because the price of Lenovo's dual-screen ThinkPad is now confirmed.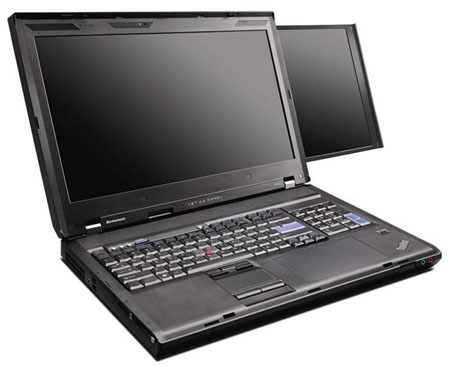 Lenovo's ThinkPad W700ds
The W700ds' existence was leaked online late last month, but Lenovo has now announced that the machine is now available to pre-order for a starting price of $3069 (£2097/€2291).
The W series ThinkPad sports a main 17in screen with 1920 x 1200 resolution, behind which lurks a secondary 10.6in screen - with a resolution of around 1366 x 768 - that can tilt by up to 30°.
The second screen's primary purpose remains unclear, but it could be useful for City traders hoping to do a bit of share dealing on the train home or anyone who always needs a clear view of a specific application, such as email.
Inside the basic W700ds model lurks a 2.53GHz Intel Core 2 Duo T9400 processor, which is accompanied by 2GB DDR3 memory and a dedicated Nvidia Quadro FX 2700M graphics. The laptop has a 160GB 7200rpm hard drive on-board and 8x CD/DVD writer.
Web surfing is possible thanks to integrated 802.11 b/g support and you'll also get a fingerprint reader embedded into the machine as standard.
Lenovo's W700ds ThinkPad is available to pre-order now through the firm's US website, with shipping expected to start in about four weeks.
The W700ds hasn't shown up on Lenovo's UK website yet. ®