Apple unveils 17in MacBook, iLife tweaks, Tony Bennett
Jobs-free keynote fails to inspire
iWork '09
All three iWork '09 apps - Pages, Keynote, and Numbers - received tweaks, and a new online service, iWork.com, was introduced.
Pages - Apple's consumer-level word-processing and page-layout app - has added a full-screen view, much like that provided by third-party apps such as Hog Bay Software's WriteRoom, but with enhanced page-management controls.
Other new Pages features include an outlining function that dynamically re-orders full documents when changes are made to the outline, mail-merge integration with Numbers (previously integrated only with Apple's Address Book), and support for MathType and EndNote.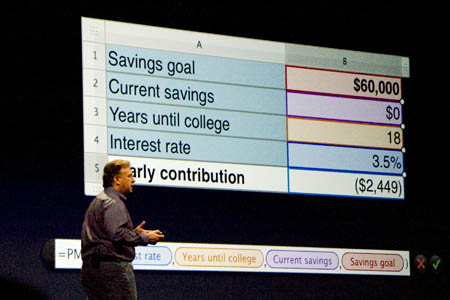 iWork's spreadsheet, Numbers, received a formula and function upgrade
iLife's Keynote presentation-software's face lift focused mainly on transitions and animations no doubt supported under the hood by Mac OS X Leopard's Core Animation technology. Expect to see much swooping, shattering, glimmering, and the like in the next non-PowerPoint presentation you attend. Charts can now be animated in Keynote, as well, and new themes and textures have been added.
Schiller also demonstrated a new 99-cent application for the iPhone and iPod Touch that allows you to wirelessly control your presentation while either previewing it in a two-slide display (horizontal) or viewing your presentation notes below a slide (vertical).
Apple's fledgling spreadsheet app, Numbers, received a hefty upgrade in its formula-creating capabilities, with a more-helpful interface accessing a larger set of functions - now "over 250," according to Schiller.
Numbers' charting functions are also improved, with the addition of multiple-axis charts, trend lines, and error-bar charts. Charts can now be linked across all three iWork apps as well.
Schiller also demoed a new service called iWork.com, which will enable iWork '09 users to upload their iWork-created content to the increasingly ubiquitous cloud, where it can be viewed and commented upon by others using their browser of choice, plus downloaded in iWork, PDF, or Microsoft Word formats. iWork.com is currently in beta and can be uploaded to only from iWork '09 apps. Although it's free today in beta form, Schiller said that "In the end, it will be a fee-based service" - which sounds to us a lot like the old schoolyard dealer's "The first one's free" come-on.
iWork.com is free in beta form, and another Apple revenue stream in the future
Speaking of fees, iWork '09 is available today at $79, or $99 for a five-Mac "family pack." The suite requires Mac OS X Leopard, so Apple will also offer a "Mac Box Set" of Leopard, iLife '09, and iWork '09 when iLife '09 ships later this month.