Apple unveils 17in MacBook, iLife tweaks, Tony Bennett
Jobs-free keynote fails to inspire
17-inch MacBook Pro
Perhaps the least surprising announcement of an unsurprising keynote - the upgraded 17-inch MacBook Pro - also contained the morning's biggest surprise: The new notebook will, like its diminutive sibling, the MacBook Air, have an integrated - meaning not removable and user-replaceable - battery.
The reason given for the iPodization of the MacBook Pro's power source was that a replaceable battery requires that a large amount of otherwise useful space be devoted to latches, interfaces, and the like - space that could otherwise be packed with a larger battery.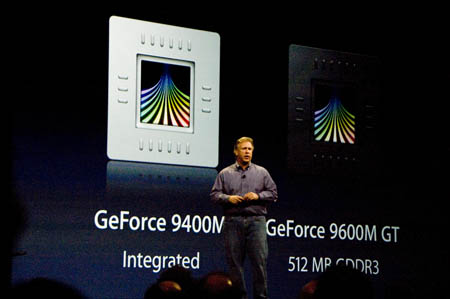 The new MacBook Pro has both battery-saving integrated and speedy(er) discrete graphics
We're not one to quibble with that logic, but even with the new battery system's reported eight-hour maximum runtime, we'd prefer the option to carry a spare. After all, it's a 10-hour flight to Paris, the city that keeps cropping up in Apple's keynote-presentation demos over the years.
But Apple also gives as it takes away - although for a fee. The 17-inch MacBook Pro, unlike its smaller sibs, can be optionally fitted with an anti-glare screen, albeit for a $50 fee.
The big guy's specs are impressive: The base $2,799 model comes with a 2.66GHz Intel Core 2 Duo with 6MB L2 cache (2.93GHz is a $300 upgrade), 1066MHz frontside bus, 4GB RAM (upgradeable to 8GB by Apple for $1,200), and a 320GB 5400rpm hard drive (320GB 7200rpm is available for a mere fifty bucks more, and 128GB or 256GB solid-state drives are $500 and $900, respectively). It shares the integrated/discrete graphics scheme with the MacBook Pro, using an integrated Nvidia GeForce 9400M that shares 256MB of main memory plus a discrete NVIDIA GeForce 9600M GT with 512MB of its own GDDR3 memory.
iTunes
For information on the new iTunes pricing structure, Apple's new DRM policy, and the availablity of iTunes purchases over the iPhone's 3G connections, see our companion article, "Apple iTunes Store goes '100% DRM-free' - allegedly."
And so comes to a close Apple's long history of Macworld Expo keynotes, maybe not with a whimper rather than the traditional bang, but with a bit of a stifled yawn.
It was fitting, however, that the event closed with Tony Bennett, his weatherbeaten voice still impressive despite his 82 years, crooning "I Left My Heart in San Francisco."
And it must be noted that Bennett received the most impressive ovation of the morning - though that may have been because of the first number he sang: "The Best Is Yet to Come."
Let's hope. ®