Mattel bemuses gamers with 'brainwave' toy
Neuroheadsets for Barbie and Ken to follow
As Emotiv Systems' Epoc neuroheadset is currently going through a rocky patch, Barbie maker Mattel has stepped in with what's rumoured to be a similar type of brainwave toy.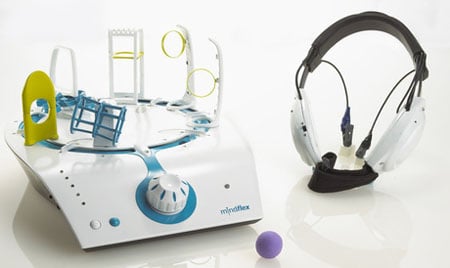 Mattel's Mindflex moves a ball according to brainwave activity
Mattel's keeping mum about the technology behind its Mindflex game, but – according to several online sources – the game requires the user to wear a headset equipped with sensors that measure brainwave activity.
This 'activity' is then used to guide a small foam ball through an obstacle course of hoops, which can be customised by the gamer.
It's still unclear how the ball is kept in the air throughout its journey around the obstacle course. Some reports have claimed that a fan's used, whilst other sources have said that Epoc-esque technology is the key to Mindflex's power.
What we do know is that Mindflex will be paraded by Mattel at this year's Consumer Electronics Show, which is about to kick-off in Las Vegas.
Mindflex is expected to fly onto the market later this year for around $80 (£54/€59). It's suitable for children aged eight and over. Small parts should not be ingested. ®