Motorola parades touchscreen talker
Dare we say it? The latest iPhone killer?
The touchscreen mobile market has expanded yet again, following Motorola's introduction of the MotoSurf A3100.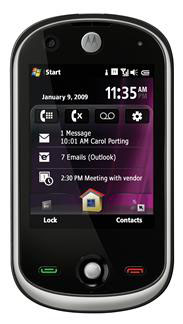 Motrola's MotoSurf A3100: a touchscreen tablet talker
Described as a "touch tablet," the device runs on Windows Mobile 6.1 but has a customisable home screen layer that can be personalised to provide everything from weather updates and news to calendar entries and messaging options.
Although the A3100 is a touchscreen device with 2.8in display, it can also be operated with a stylus or the omni-directional trackerball that sits in-between physical buttons for answering and ending calls.
The A3100 can support 3G connections of up to 7.2Mb/s and Wi-Fi, unlike the BlackBerry Storm which doesn't support Wi-Fi. Tri-band GSM connectivity, Bluetooth and Assisted GPS are also integrated into the A3100.
Elsewhere on the MotoSurf phone you'll find a three-megapixel snapper and a secondary VGA user-facing camera for making video calls.
MP3 audio files are supported and can be stored onto Micro SD memory cards of up to 32GB.
So far Motorola's only been willing to say that the MotoSurf A3100 will be available in "multiple regions" during the first quarter of 2009. ®