Motorola goes eco
World's first phone made from recycled water bottles
If you thought Motorola's phones were a load of junk, then you were right – sort of. Because the company's unveiled what it's claimed is the world's first mobile phone featuring a body made from recycled water bottles.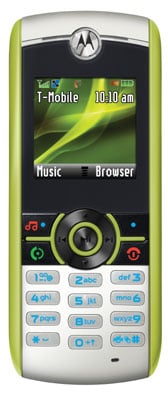 The body of Motorola's W233 Renew is made from recycled water bottles
As a result, Motorola's stated that the Moto W233 Renew's plastic body is also 100 per cent recyclable.
The phone's been awarded a Carbon Free product certification status by Carbonfund.org, because carbon dioxide required to manufacture, distribute and operate the phone will be offset by Motorola's investments into renewable energy sources and reforestation.
Motorola's even studied phone packaging and managed to reduce the W233's packaging by 22 per cent. The box and all the materials inside, such as the instructions, are even printed on recycled paper.
Although Motorola hasn't yet said much about the phone's features, we do know that the dual-band GSM talker will support up to nine hours of banter and is Edge compatible.
It's not clear if the phone has a camera, but it does support memory cards of up to 2GB.
Motorola's Moto W233 Renew will be available in the US during the first quarter of this year, but a European launch date or price hasn't emerged yet. ®