Yes! It's the Star Trek captain's chair!
Set phasers to stun
There's nothing wrong with sitting in your car, flipping switches and pretending to be Captain Kirk navigating Sulu and the gang through space. But now you can do it in style, because a replica of the captain's chair from Star Trek is available.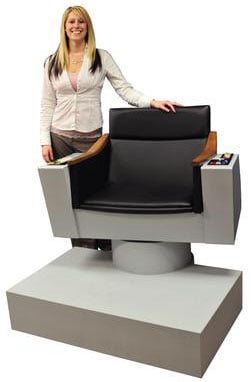 The Star Trek Captain's Chair
The full size chair measures 42in x 39in x 41in and is an officially licensed replica, according to retailer Sky Mall.
Onboard the chair, if you'll pardon the pun, is a series of light-up controls and sound effect switches. Hopefully the manufacturer's been thoughtful enough to include one button for the Star Trek theme tune.
Each armrest appears to have been decked out in a luxurious quality wood, whilst the chair's leather backing should keep you comfortable during warp drive.
It's worth noting that the chair swivels around too, so you can pretend to spin round and listen to Spock's advice.
The Star Trek Captain's Chair is available now online for $2717 (£1856/€2028), but it also carries a $400 (£298/€273) delivery charge. ®