This article is more than 1 year old
Lexmark C543DN colour laser
Fast replacement for your inkjet printer?
Review The boundary between colour inkjet and colour laser printers continues to blur, as the colour quality of lasers improves and the speed and paper-handling of inkjets is ratcheted up too. There's a price-band in the middle, around the £200-250 mark, where colour lasers, like Lexmark's C543DN, can make a lot of sense.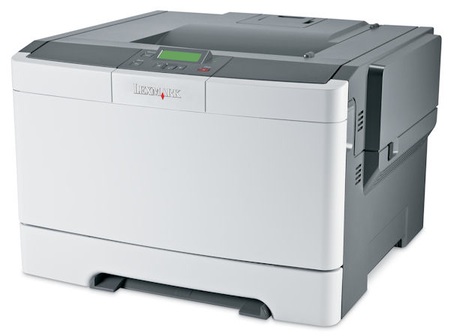 Lexmark's C543DN: new colour engine on board
Lexmark may have a reputation as a stack-'em-high, sell-'em-cheap inkjet manufacturer, but its laser printer heritage goes back to when it was IBM's business printer division. It has a solid technological base, and this small workgroup printer includes a newly designed colour laser engine and some useful extras which could make for cost savings.
The grey and off-white case is unusually low of profile for a colour laser, and pages feed from a 250-sheet tray at the bottom to a raised output tray on the printer's top surface. There's a single-sheet feed built in right at the bottom, at desk level, which helps align special media. An optional second paper tray adds a 550-sheet unit and converts the single-sheet feed into a 100-sheet multi-purpose tray.
The control panel on top includes a 16-character, two-line back-lit display, but this uses a reduced dot matrix, so no letters have true descenders – 'g', 'j', 'p' and 'y' all sit above the line. This is a surprisingly cut-price choice in a machine costing £250. Controls are a simple set of six buttons: to move left and right through menus, an OK button for option selection and another for backing out. There's a manual job-cancel button, marked Stop, too.
It's a shame the front-panel USB socket, for walk-up and PictBridge printing, isn't included on the C543DN as it is on the machine's higher-priced sibling, the C544n. The only connections on this machine are USB 2.0 and Ethernet, and both direct and network links are easy to set up. The installation software guides you through the process and the physical unpacking will probably take longer than setting the thing up, as there are innumerable packing pieces hidden in different parts of the mechanism.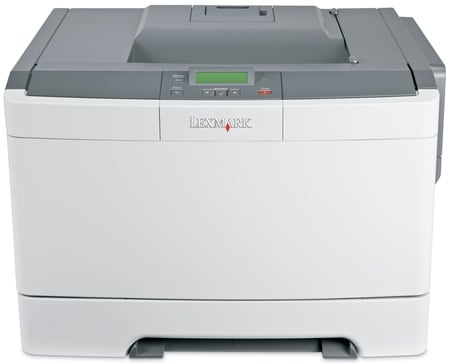 Network ready - and easy to set up
This isn't helped by the designer's decision to put the toner cartridges down the side of the printer, rather than at the front or on top, which is more conventional. To get at them, you lift a flap on the right-hand side of the printer and they clip in, more like inkjet cartridges than a toner pack.