CES SanDisk has updated its Sansa Slot range of Portable Media Players (PMP) with the creation of SlotRadio: a PMP with integrated OLED display.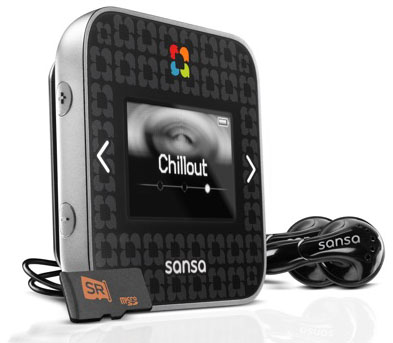 SanDisk's SlotRadio has a 1.5in OLED screen
The SlotRadio player is made from die-cast aluminium and has a 1.5in OLED screen at its centre, allowing you to see artist and song information as you would on an iPod.
The player is also set-up for listening to FM radio stations and has an integrated belt clip so that you not only look sad whilst walking down the street, but can advertise the fact that you're ripe for mugging.
As seen on the recently launched SlotMusic player, SlotRadio also sources its music from pre-loaded Micro SD cards.
When you buy SlotRadio SanDisk will throw in a Micro SD pre-loaded with 1000 songs "handpicked" from the US Billboard charts, which are…ahem…"professionally arranged" into a variety of genre-themed playlists, such as Rock and Pop.
SanDisk's SlotRadio will be launched in the early half of this year for around $100 (£67/€73). Additional Micro SD cards pre-loaded with songs from other artists will cost around $40. A UK launch date or price guide hasn't been announced yet.
Don't forget to check out Register Hardware's first look at SanDisk's existing SlotMusic SD-not-CD player.