AKG headphones sound out US market
From cheapo buds to premium cans
---
Macworld Expo At this week's Macworld Expo, audio giant Harman International announced that it would begin selling its premium-quality headphone brand, AKG, in the US consumer market.
While select products in the AKG line have been available to US-based audio professionals, the company's consumer-level 'phones have until now been unavailable to statesiders.
In a statement, Dorian Staps, director of AKG Consumer Business in Vienna, said, "We are happy to bring our advanced technology and superior headphones to U.S. consumers so that they can experience their music in its true form, and as if they were sitting in the recording studio with their favorite artist."
Seems reasonable, seeing as how many of those favorite artists have been sitting in recording studios wearing such professional AKG cans as the K 702.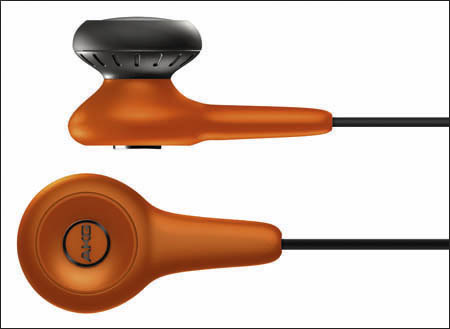 $16.95 will get you AKG's Juicy Orange K 309 earbuds...
The new US line will at launch include 17 models and will include ear buds, in-ear-canal earphones, multicolored mini headphones, and over-ear headphones that will include both circumaural models, which surround the ear, and supra-aural models, which sit on top of the ear.
The reasons for the multiple types of offerings are both price and taste. At the entry level, some users like the security and external-sound reduction of in-ear-canal headphones, while others prefer the convenience of standard earbuds. We've heard arguments extolling the relative comfort and bass response of both.
In the higher-end strata, arguments focus on circumaural versus supra-aural, with some preferring the initial comfort of circumaural 'phones and some the lighter weight of supra-aura units. There's general agreement, however, that vented 'phones have a more open sound than closed-back models, although the latter are better at blocking out external noises.
No matter. Whichever your preference, the new AKG line has a model for you to try.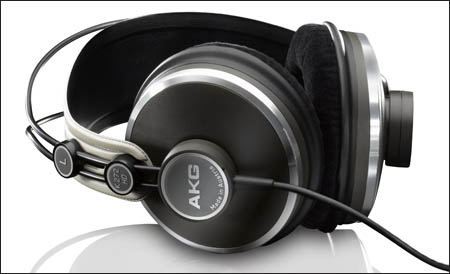 ...or you can move 17 steps up the line to the $299.95 K 272 HD cans
There are 17 new US offerings in all, ranging from the $16.95 K 309 earbud, which comes in "cocoa brown or juicy orange" to the $299.95 on-ear, closed-back K 272 HD, a two-tone "mocha/sand" unit that is, according to Harman International, "loud and rugged; ideal for single-ear DJ use."
The K 309 has a claimed frequency response of 18Hz to 20kHz, while Harman claims the K 272 HD's response is 16Hz to 28kHz.
Considering that the upper range of the human ear's frequency response is generally considered to be in the range of 20kHz, we're assuming that the K 272 HDs will be the cans of choice for US doggie DJs. ®