Firm pitches 'HD audio' wireless streamer
Uncompressed tunes on the 2.4GHz band
---
CES Getting music from A to B wirelessly has just become a little easier, thanks to the i2i Stream.
Connect one Stream to any audio device with a 3.5mm output jack, connect another your headphones, speakers or stereo, and your music just flows from one to the other.
Makers Aerielle reckons the 2.4GHz link warrants the label "HD quality audio" as it doesn't compress the signal in any way. Judging by what we heard at CES today, the sound quality was significantly better than anything we've heard over a Bluetooth link. In fact, we couldn't tell when we were listening to a Bose stereo over the Stream or a cable.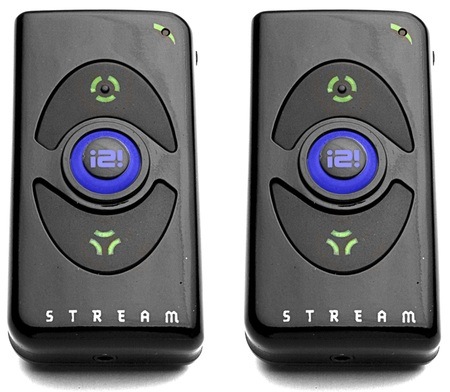 Aerielle's i2i Stream: wireless music, uncompressed
Aerielle said you can put the transmitter and receiver "30+ feet" apart, something we will able to check out when review the device later this month.
The Stream can powered direct from the mains, by USB or from its internal rechargeable battery - which should be good for around seven hours of operation, the company claimed.
The starter pack comes with two transceivers but others can be added to the network. Set up was so easy it didn't really dignify the term "set up", it is simply a case of plug and play.
A UK release is imminent but no prices were available. In the US, the two-unit pack has a RRP of $119.95 (£79/€87) but can be found for under the $100 mark.
Related Review
AudioEngine AW1 wireless music system