This article is more than 1 year old
LaCie showcases hella-expensive display
$4,240 gets you 30 inches
Macworld Expo Storage and display vendor LaCie showcased its recently released 730 LCD Monitor at this week's Macworld Expo, a jaw-droppingly gorgeous 30in display with an equally jaw-dropping price of $4240 (about £2785).
Who on God's green earth would pay well over four-thousand bucks for an LCD display, even one as lovely as this one? Even Apple - a company not known for its low, low prices - charges just $1799 for its 30-incher, and PC Connection is offering the well-received 30-inch Samsung SyncMaster 305T for just $1249.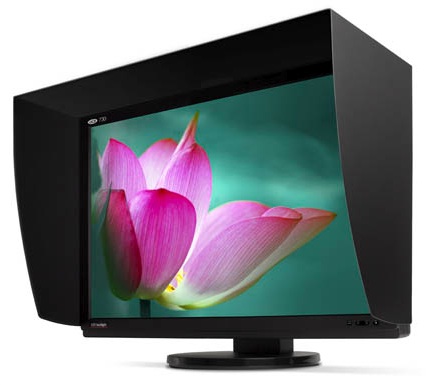 You may not be able to afford it, but you probably don't need it
To answer that question, let's first look at the 730's specs: It's an LED-backlit screen, which ensures instant-on and even illumination, plus intense colors. It has a maximum resolution of 2560 x 1600. Not too shabby. But, still, pixels are just pixels. LaCie claims a contrast ratio of a killer 1000:1 and viewing angles of 178 degrees both horizontally and vertically.
But here's where things get interesting: The 730 LCD Monitor has a color gamut of 123 per cent of Adobe RGB and 125 of NTSC specs. Such a broad gamut ensures a lossless workflow, meaning that the 730 can keep up with the enlarged gamuts of high-end cameras and printing processes.
In addition, the 730 uses a 14-bit look-up table, which allows gradients to be displayed with greater accuracy and smoothness than they are on lesser monitors. Also, the 730 employs what LaCie calls ColorKeeper technology, which, according to the company, "constantly analyzes the brightness and chromaticity of the backlight and adjusts it in real time" to ensure stable colors.
Finally, the 730 is bundled with LaCie's UGRA-certified Proof Edition of its calibration software, to be best used in conjunction with the company's blue eye pro calibration hardware.
This is not a display to be used for spreadsheets or by sysadmins. This is a display for creative pros who take color seriously, and who make money - in some cases, lots of money - from their chromatic expertise.
And so the answer to the "Who on god's green earth?" question is simple: people who know exactly what shade of green that earth is - and who make a lot of green by using their well-trained eyeballs. ®