Sapphire HD4870 X2 Atomic water-cooled graphics card
Liquid engineering and the world's most expensive graphics board
---
Review AMD's ATI Radeon HD 4870 X2 is a formidable beast of a graphics card but it has a number of obvious flaws.
For starters, it's expensive, with prices starting at £399. It's also very long, measuring 267mm nose to tail, although in fairness that's the same length as an Nvidia GeForce GTX 280. The third snag is that the double-slot design is bulky, gets darned hot and exhausts a jet of heated air from the rear of your PC.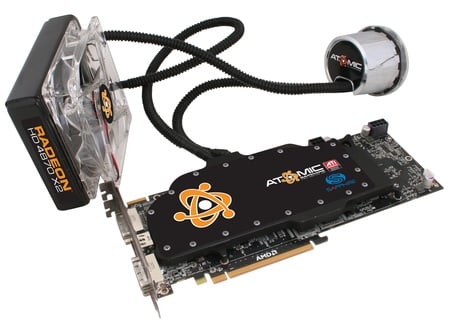 Sapphire's HD4870 X2 Atomic: liquid engineering
Sapphire has come up with a dramatic solution to the issue of heat with its water-cooled Atomic HD4870 X2.
Water cooling your PC isn't a new concept and it's relatively easy to add a water block, pump and radiator to keep your CPU cool. Doing the same for your graphics card is a different proposition as you have to dismantle the original cooler before you attach the VGA water block and hook it into the cooling loop.
Did you hear that whooshing noise? That was the sound of your warranty flying out through the window.
If you fancy water-cooling your Radeon HD 4870 X2, you can connect it to your existing system with a water block from the likes of EKWaterBlocks at a cost of £85. Add in two hose fittings and some tubing and the cost comes to about a hundred quid.