Branson rocket piggyback plane has control 'issue' - report
Virgin: 'What did you say about my mothership?'
---
The "mothership" intended to carry beardy biz kingpin Richard Branson's planned space tourism rocketplanes to launch altitude has hit technical problems, according to reports.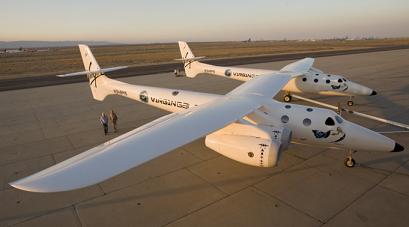 Prone to fishtailing?
The WhiteKnightTwo high altitude jetplane, which has already carried out its first flight test, is said to suffer from rudder control issues during takeoff which make the aircraft yaw from side to side no matter what the pilot might do. The revelations come in a report by Flight International.
According to the aviation mag, the mothership's test pilot was reluctant to carry out inflight manoeuvres involving use of rudder during the plane's inaugural flight on 21 December, having struggled with yaw control during takeoff. He also questioned whether airflow over the WhiteKnightTwo's twin rudders was normal during high-speed taxiing tests on the previous day, asking chase cars to check indicating equipment fitted to the control surfaces.
Virgin Galactic, the company set up by Branson to operate the WhiteKnightTwo and its piggyback SpaceShipTwo rocketplanes, firmly denied that the programme had suffered any setback.
"There are no issues we know of at all," Will Whitehorn, president of Virgin Galactic, told Flight.
"It is beyond ridiculous. I am afraid to comment on alleged take-off cockpit dialogue during a first flight which then went to 16,000 feet and landed without a hitch."
The WhiteKnightTwo is built by Californian high-tech aviation firm Scaled Composites, which made the original Ansari X-Prize winning WhiteKnight and SpaceShipOne combo - and may nowadays be at work on a new top-secret "ultra" stealth bomber prototype for the US Air Force. Scaled declined to comment on the WhiteKnightTwo rudder story.
However, the firm did say following the 21 December test flight: "We were very pleased with the results of the flight and look forward to continued testing in the new year." ®