First Windows 7 beta puts fresh face on Vista
More polish so you don't spit
---
Jump lists, libraries, and more
Right-clicking a taskbar icon pulls up the "jump list", a menu of common actions that developers can customize. Developers can also show progress bars in taskbar icons, and add controls to the thumbnail preview that appears when the mouse hovers over an icon. If you have multiple documents open, thumbnails appear for all of them, making it easier to navigate between Internet Explorer tabs or open Office documents.
Move the mouse over the preview, and the full application window comes to the front, while others go transparent, but only temporarily unless you click. There is also a Show Desktop button that again makes applications transparent, so you can see desktop gadgets. It adds up to a lot of mostly successful work put into application launch and navigation, though note that you do need the Desktop Window Manager enabled for full benefit.
Another key feature is the libraries. This Explorer feature lets you treat a group of folders as one. It addresses the fact that files that belong together in some contexts may have good reason to be stored in different locations. Libraries can show them as a single list ordered by folder, or they can hide the folders completely. In the absence of WinFS, the data-driven file system planned for Windows Vista but later abandoned, libraries are a handy feature.
WMP 12 is an interesting release, complete with the enhanced DLNA support mentioned by Curran, and support for new media types including AAC audio and AVC/H.264 video, as commonly found in HD video cameras. I was impressed when WMP successfully discovered and could play audio in a Mediatomb library running on Linux. Mediatomb is an open source UPnP server, and I was especially impressed since the files are stored as FLAC and transcoded (by Mediatomb) on the fly.
Unfortunately DLNA compliance in devices is variable and it does not always work as expected, while Apple is conspicuously absent from the DLNA member list, so seamless interoperability is still some way off. The WMP user interface is annoying at times, such as when it treats an ordinary USB storage key as a "sync device", with all the complication that implies.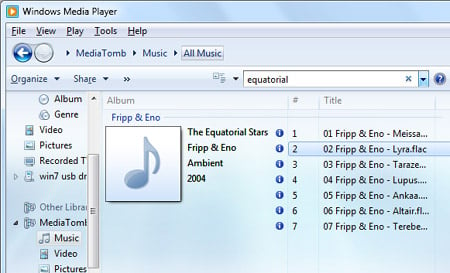 Playing a FLAC file in WMP 12, with transcoding and UPnP
Microsoft is keen to use Windows 7 to promote its Live services. Newly announced is that Live Messenger will integrate with Facebook, so you can get friend updates in Messenger. An intriguing aspect of the Live integration shows up in home networking. Windows 7 has a new "homegroup" concept that sets up simple sharing between home computers.
An annoyance in earlier iterations of home networks is that you cannot set per-person permissions on shared files, since there is no central directory. In Windows 7 you can, but any "specific persons" need to link their Windows accounts with an online account via what online help calls an "online ID provider". Presumably a Live ID is one such although - right now - none are listed if you try to sign up.
There is more in Windows 7, including of course multi-touch support. The official developer guide has a good summary, while - of course - the beta is officially available. MSDN and TechNet members can play with it now and public availability is due from January 9.
All told, this will likely be a strong release, as it needs to be after the Windows Vista experience, just do not expect miracles. This is Windows Vista with a new face, not a major new version of Windows. ®