NASA deploys huge clingfilm strato-pumpkin over Antarctic
Giant Peach? Pah
---
NASA balloon boffins are chuffed to announce that they have successfully launched a new prototype gasbag into the stratosphere above the Antarctic. The designers hope soon to produce a colossal pumpkin-shaped balloon made of material similar to clingfilm, able to cruise on the fringes of space carrying a one-tonne instrument package for months on end.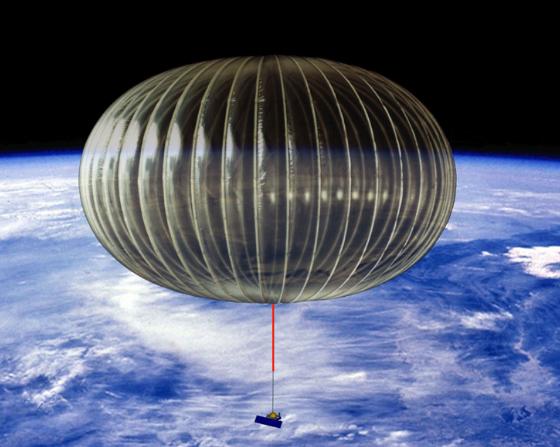 Flying pumpkins garnished with CREAM over Antarctica.
The current one-third-volume prototype took off from the US scientific base at McMurdo Station in Antarctica on Dec 28. It has now reached its cruising altitude of 111,000ft and is happily circling the south pole without difficulties.
"This flight test is a very important step forward in building a new capability for scientific ballooning," said NASA's W Vernon Jones. "The team has further work to do to enable the super pressure balloon to lift a one-ton instrument to a float altitude of 110,000 feet, but they are on the right path."
NASA wants long-duration balloons able to lift big instrument packages out of most of the Earth's atmosphere because they are much cheaper than satellites, and offer nearly as good a platform for observing such things as cosmic rays, neutrinos and so forth. It is also feasible to recover and re-use the instruments, which isn't normally an option with spacecraft.
The new generation of NASA "super pressure" balloons are so called because they are designed to operate with their internal lifting gas at a small but noticeable increment above ambient pressure. They are "essentially very large pressure vessels", according to the space agency's balloon boffins at Wallops Island, Virginia.
The overpressure inside the massive gasbags is contained by an envelope made of thin lightweight polyethylene film, "about the thickness of ordinary plastic food wrap". This would rupture on its own, even under the very gentle overpressure used by the NASA designers, so the clingfilm balloon is held together by zylon "tendons" reaching from top centre to bottom centre of the envelope. Once the envelope is at float height and fully inflated these give it a flattened, lobed shape likened to a colossal flying pumpkin.
David Pierce, chief of the Wallops Island balloon lab, says that "the test flight has demonstrated that 100 day flights of large, heavy payloads is a realistic goal."
Other balloon tests have also been carried out from McMurdo Station in the ongoing Antarctic summer. In particular the University of Maryland's Cosmic Ray Energetics and Mass (CREAM IV) floater took off on Dec 19 and set down on Tuesday. The CREAM bag gleaned valuable readings of cosmic rays emitted by faraway supernova star explosions, according to NASA.
Tracker maps showing the position of NASA's balloons over the austral continent can be viewed here. ®