21st Century Victrola
Baumbach described the $30 Ampli-phone as "based on a Western Electric design from the 20s used in the early Vitaphone movies" that uses a folded-horn method of acoustic-wave amplification.
Although it was difficult to fully appreciate the acoustical properties of the Ampli-Phone amidst the din of the Expo floor, it was clear that bass response was clearly improved, although the overall sound was somewhat shattered and weak at the high end.
At 21cm by 14cm by 16.8cm, the Ampli-phone is a somewhat formidable desktop companion. To its bulky credit, however, it functions equally well when tipped on its side to amplify the sound of movies playing on your iPhone when it's nestled in the Ampli-phone's dock.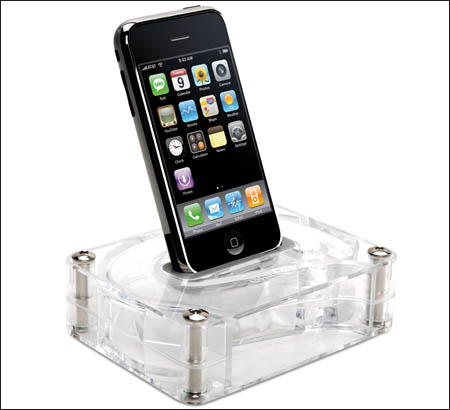 Good sound, but no movies
The third passive amplifier is the only one from a major vendor: Griffin Technology. Their wave-guide-based amplifier, the $19.95 AirCurve, is a less-imposing presence than the Ampli-Phonem - its see-through body is a compact 12cm by 9cm by 3.5cm.
Griffin's Category Manager for Connectivity and Power Products (whew...), Rick Kennedy, explained that the AirCurve is constructed of acrylic polycarbonate and that its design was a pet project of company founder Paul Griffin. According to Kennedy, "It took us about a year of engineering time to figure out how the wave guide works."
In our testing of the AirCurve in a quiet office, the music amplification worked well - but don't expect audiophile quality. It's a freakin' iPhone, fer chrissakes.
Unfortunately, as a speakerphone enhancer the AirCurve is a washout. In all the calls we tried, the sound quality was poor on both ends of the connection, with stutters and drop-outs - problems, we hasten to add, that disappeared the instant we removed our iPhone from the AirCurve.
So none of these passive amps were stunning. So what? At least Macworld Expo attendees had a chance to give them a once-over, an opportunity that would - will? - be impossible if - when? - the Expo slides into history.
Remember, every once in a while a product from an underdog changes everything. There was once, for example, a software vendor that may not have been a certified Little Guy like Ten One Design or Gryphon, but was certainly no Adobe or Microsoft: Cassady & Green. One of their products, SoundJam, found its fans, established cred - then was bought by Apple and became iTunes.
You've heard of iTunes, right?
If - when? - Macworld Expo disappears due to Apple's abandonment, where will Mac addicts go to evaluate such oddities as SoundClip and Ampli-Phone - and SoundJam? Sure, established companies such as Griffin will still be able to punt their inventive oddities on their websites, but - as usual - it's the Little Guy who's going to suffer.
And when the Little Guy has no stage upon which to perform, the show can get deadly dull quite quickly. ®