This article is more than 1 year old
Newer Tech punts toaster drive dock
Slide 'em and swap 'em
Macworld Expo Long-time Mac-centric vendor Newer Technology launched the easiest-to-use drive dock we ever seen at this week's Macworld Expo.
Dubbed the Voyager Q, this toaster-like device is a docking station for bare 2.5-inch and 3.5-inch SATA I and II drives.
The Voyager Q, which retails for $99, includes two FireWire 800 ports, plus FireWire 400, eSATA, and USB 2.0 ports. According to Grant Dahlke, Newer Technology's marketing manager, providing a cable for each of those ports is "a hallmark of Newer Technology - we will not sell a product unless it includes all the interface connection cables."
Are you listening, HP, Epson, Canon, et al?
Using the Voyage Q is as simple as using the toaster it so much resembles, due to what Dahlke calls, with tongue firmly in cheek, "slide and swap technology."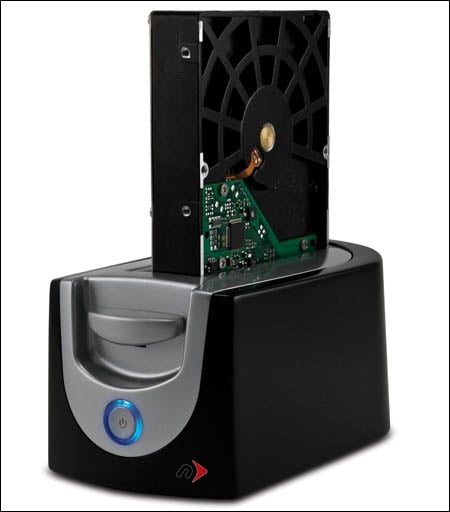 Resist the temptation to reach for the lemon curd
Slip a drive into the vertical slot, which has a horizontally hinged door that ensures that 2.5-inch drives don't wobble and thus torque and deform the SATA port at the bottom of the toaster slot. You're done - the drive mounts, just as you'd expect it to.
When you want to eject the drive, push down what Dahlke calls "the little toaster button," and up it pops.
Anyone who been poking around computers for any time at all has a shelf of old, bare drives. Some are too small for regular use, some are old swap-outs with contents you know longer remember, some you use for off-site backup, and some may be dead or not - you've forgotten, haven't you?
Here's an easy way to resurrect them. And if ninety-nine bucks is too pricey, just wait until later this month, when Newer will introduce the Voyager S2, an eSATA and USB-only version for $49.
UPDATE: We neglected to mention that if your "shelf of old, bare drives" includes aging IDE/ATA/ATAPI 40-pin drives, Newer's USB 2.0 Universal Drive Adapter or WiebeTech's UltraDock 4 can help - but they're nowhere near as amusing as the Voyager Q. ®