Macworld Expo Although Macworld Expo 2009 had a decidedly consumer-focused feel, high-end storage also played its part.
Iomega, Other World Computing, LaCie, and other Mac vets showing off their new desktop drives may have attracted bigger crowds, but rack-mounters such as Active Storage, EZQuest, and Promise Technology attracted bigger wallets.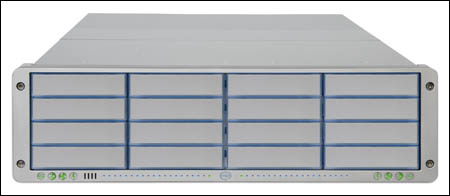 Active Storage's XRAID has some of the slickest management software we've ever seen
Active Storage, for example, was showing the latest refinements to its Active Storage XRAID, which we wrote about recently. According the company's CEO, Alex Grossman, their engineers "recently had a breakthrough" in performance and have doubled their per-controller cache from 2GB to 4GB per controller. He also waxed rhapsodically about the unit's failover/failback rates, which he claimed to be 12 seconds failover and under-6 seconds failback, calling them the "fastest we've ever seen in this class of product."
Alex rapped high-speed and non-stop for over twenty minutes about the XRAID's capabilities, focusing mostly on advanced software set-up and management capabilities. Our brain was beginning to drip out of our ears, threatening to stain our shirt, when we managed to slow him down enough to discover that the XRAID costs $14,999 in a 16TB configuration - a fair price at this level.
EZQuest was showing its new EZQuest Cinema Pro Rack-Mount Raid Storage System, which uses a PCI-Express 8X Extender interconnect with its host computer. As with most rackmounts of this class, the Cinema Pro has 16 bays. Pricing is not yet firm - or clear - on the EZQuest website, but the base unit runs $8,849.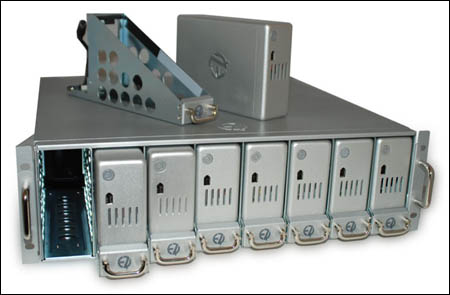 The Studio Rack is an intriguing idea - maybe some day to be a product
The company was also showing the Thunder Pro A/V Studio Rack 8, a proof-of-concept prototype for a rackmountable chassis that will hold eight of EZQuest's Thunder Pro A/V Quad Interface Drives. The idea is simple but intriguing: A Thunder Pro drive can be either a standalone desktop drive or a member of a rackmountable RAID array.
Promise Technology is in the enviable position of being Apple's sanctioned replacement for Cupertino's erstwhile Xserve RAID. Its Mac-oriented line of rackmountable RAID, in fact, is shipped with Apple part numbers and is only available through Apple channels, according to Paul McLeod, a technical marketing engineer at Promise.
McLeod told us that the new versions of the VTrak E-Class RAID systems they were introducing at the show were updated both internally and cosmetically. The latter, he said, was in response to users' requests to make their RAID systems "go really well with Apple hardware." Capacity has also increased, with the 16-bay unit (which supports both SAS and SATA drives) now containing 16TB of storage space.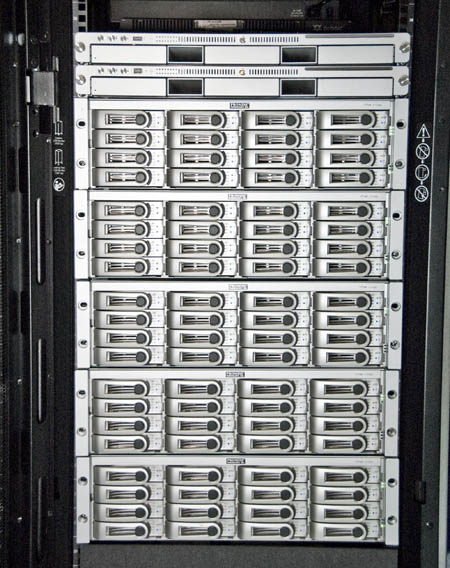 Promise displayed an 80TB, 80-drive array on the show floor - hella iTunes collection
Otherwise, the "hardware is essentially the same," said McLeod, although a firmware upgrade has introduced Bonjour access, making "the box even easier to manage and discover on the network." Promise sells four, eight, and sixteen drive versions of the VTrak E-Class series, with the 16TB version going for $14,995.
But I bet you could talk Alex Grossman of Active Storage down four bucks to match Promise's price. ®