Microsoft delays first Windows 7 public beta
'Feature complete' code demand buckles servers
---
An update to this story can be found here
Microsoft has postponed broad availability of the first Windows 7 beta in order to keep up with anticipated download demand.
According to reports from across the web, both the Windows 7 download page and Microsoft.com were intermittently unreachable earlier today as would-be downloaders angled for position. A Microsoft spokeswoman has confirmed that the sites saw unusually heavy traffic this morning.
Chief executive Steve Ballmer said on Wednesday that the beta build 7000 would be made available to the public today, Friday. The build was released to subscribers on the company's MSDN and TechNet sites on Wednesday.
Microsoft said Friday afternoon, though, that it's adding additional infrastructure - likely meaning servers - to Microsoft.com before it posts the beta. "Due to very heavy traffic we're seeing as a result of interest in the Windows 7 Beta, we are adding some additional infrastructure support to the Microsoft.com properties before we post the public beta," a spokeswoman told us.
The Microsoft Windows blog said it's adding additional infrastructure to "ensure customers have the best possible experience when downloading the beta".
At the time of writing, there was no word from Microsoft on when the beta code would be made available.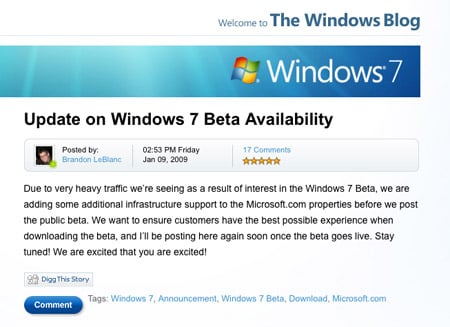 Wrong kind of demand: Windows 7 first beta subject to delay
Microsoft says there have been no problems with downloads on TechNet or MSDN and it insists the public beta was never posted. But one Reg was in the processes of downloading the build here when the site seemed to buckle.
"The website for the beta trial... has gone tits up," he told us. "Was trying to download, got logged in to get a product key then it just wouldn't respond and now [Microsoft has] now changed the web page to say its 'coming soon!!'"
That download page has now been updated to say "Thanks for your interest in the Windows 7 beta. The volume has been phenomenal - we're in the process of adding more servers to handle the demand. We're sorry for the delay and we'll re-post the Beta as soon as we can ensure a quality download experience."
CNet indicated that some would-be public testers were at some point using that TechNet site in an attempt to download code.
Microsoft, meanwhile, has insisted the code you eventually download will - as promised three months back - be "feature complete".
Reg regular Tim Anderson noted in his Windows 7 review and on its ITWriting blog that at least one element in Windows 7 was not yet operational - features for the mysterious "online ID provider." As Anderson noted, this sounds like Microsoft is implementing OpenID for federated single sign-on to web services using Windows 7.
Microsoft told Anderson, and us directly Friday, the reason "online ID" is not yet working is because it's an "ISV opportunity and... not currently enabled in the beta".
The reality is, though, that no beta can be regarded as "feature complete". The beta process designed to thrash features and also take feedback on potential additions - although such additions are rare as much of the fundamental build work is considered finished by beta-test time.
A Microsoft spokesperson repeated the official line, though, Friday: "Windows 7 beta is feature complete," she said. She added: "Microsoft is always looking to enhance the latest version of Windows with great, new features, but will balance any development innovation with ensuring a high-quality product is delivered in a timely manner." ®