CES Bought a Creative Vado or Flip Ultra recently? We hope you kept the receipt because Sony is about to enter the YouTube camcorder market like a bull entering a china shop.
Just released in the US is the $199 (£132/€148) CM1 Webbie HD mini camcorder complete with 2.5in LCD screen, H.264 video recording at 1440 x 1080, 1280 x 720 or 640 x 480 - all at 30f/s - a five-megapixel stills camera, and a 5x optical and 20x digital zoom. The device weighs a featherlight 210g and measures up at 105 x 61 x 43mm.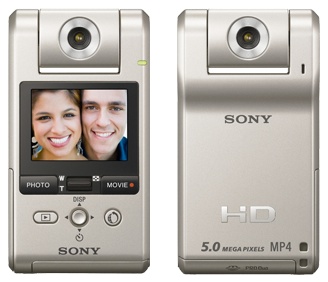 Sony's Webbie HD PM1: watch out, Flip
Coming in March will be the $169 PM1 - also called the Webbie HD, and, yes, we think it's a rather silly name too - which shares the CM1's basic technical specification but lacks the optical zoom, making do with only a 4x digital zoom and a 1.8in LCD screen. In the plus column, the PM1's screen can be swivelled up or down through a 270° arc.
The PM1 weighs 120g and measures up at 103 x 55 x 24mm, putting it in direct competition with the pocket videocams from the likes of Creative and Flip.
Neither device comes with anything in the way of internal storage, but you do get a Memory Stick slot good for 16GB.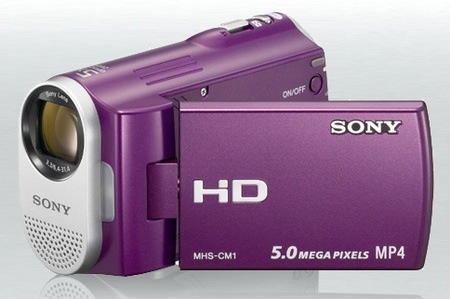 The CM1's for folk who prefer something more like a regular camcorder
After a brief fondle with each device at Sony's CES stand, all we can really say is that while neither device is a blindingly simple to use as either the Flip or the Vado, they both feel far more like proper video cameras than toys, which is effectively what the Vado and Flip are, their decidedly untoy-like price points not withstanding.
The CM1 is powered by a rechargeable battery, while the PM1 uses a regular AA. Each device comes loaded with basic image manipulation and upload software so sending content to YouTube and the like should be as simple as falling off something very slippery.
Both devices will be available in silver, orange and... er... "eggplant" - that's purplish blue to those of us who speak English.
No information yet as regards a UK release date or price but we will surprised if we don't see them turn up in Blighty at some point in the first half of 2009. ®