Chrysler turns on Circuit at Detroit Motor Show
Shows 200C tourer too
---
'Leccy Tech Chrysler seems determined to forge ahead with plans for an electric fleet if its presentations at the Detroit Motor Show are anything to go by.
First on show was the final design of the two-seat Dodge EV coupé, now officially called the Circuit. It may be an electrified Lotus Europa underneath but in its new corporate Dodger clothing it isn't a bad looking old Hector.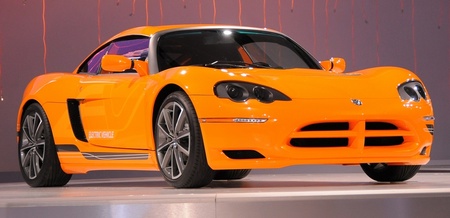 Chrysler's Dodge Circuit: electrified Europa underneath
The official spec. sheet for the Circuit includes a 200kW (268bhp) electric motor, a range of between 150 and 200 miles, a 0-60 time of "less than five seconds" and a top speed of over 120mph.
Next up was the four door 200C EV, a range-extended electric vehicle in the same mould as the Chevrolet Volt. According to Chrysler, the 200C has a 40-mile all-electric range but a 400-mile range with a full charge of its lithium-ion battery and a full tank of petrol.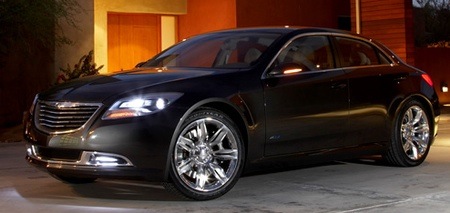 200C: extended range thanks to a petrol generator
The 200C uses the same electric motor as the Circuit though presumably a smaller lithium-ion battery pack. The 0-60 dash is quoted as seven seconds with a Circuit-like top speed of over 120mph. The 200C's petrol engine and generator combo is said to be good for 55kW (74bhp).
Since the 200C is based on Chrysler's existing rear-wheel drive platform it may not be a million miles from production in one form or another.
The 200C's interior gives a glimpse of what Chrysler think the "connected" car cabin of the not-too-distant future will look like. Apparently, "all vehicle functions, settings and uConnect features are managed via a panoramic multimedia touch screen, a passenger-dedicated 'techno-leaf' and a stowable tablet PC".
For the uninitiated, uConnect is Chrysler's idea of a combined and integrated in-car information and entertainment system that links the internet, your mobile phone and your home digital media to you car so you - or, perhaps less life threateningly, your passenger - can muck about with it while on the move. ®