Seagate replaces CEO
Watkins out, chairman Luczo takes over
Updated Seagate has startlingly and suddenly replaced its long-serving CEO Bill Watkins with chairman Stephen Luczo. It's also lost its chief operating officer, indicating turmoil at the top levels in the company.
Luczo continues as chairman of the board, possibly indicating that being CEO is a temporary appointment. He'll agree with Watkins what role Watkins will have, 'if any', the company statement says, going forward. It can be taken as indicating that Watkins has been pushed out although there is no word on whether Watkins resigned or was fired.
In an SEC filing the company also revealed that David Wickersham has resigned as president and chief operating officer, effective today. He is being replaced by Robert Whitmore, currently the company's chief technology officer. Seagate also confirmed a 10 per cent head count reduction which will affect a broad range of departments, including research and development.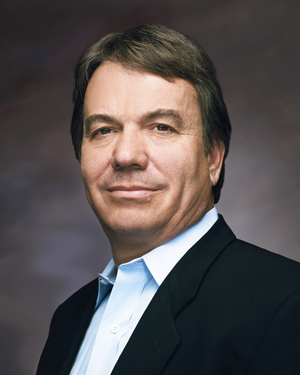 Bill Watkins, the now ex-CEO of Seagate.
Watkins was a fixture, a 'tell it like it is' institution. His abrupt ousting will raise all sorts of questions in the minds of customers, competitors and investors.
Seagate issued a statement about Luckzo's taking over of the CEO role, with Luczo saying: "I want to take this opportunity to thank Bill Watkins for his commitment to Seagate. Since first joining Seagate more than 12 years ago, Bill has made many significant contributions to our Company through his dedication, knowledge and leadership."
That's hardly laudatory and, in the circumstances, not at all generous.
Stephen Luczo has been Seagate's chairman since June, 2002. He joined Seagate in October 1993 as a SVP for Corporate Development. He then became COO and president and was promoted to CEO in 1998. During his tenure the company went private in 2000 but returned to public ownership in 2002.
Before joining Seagate he was the senior Managing director of the Global Technology Group of Bear, Stearns & Co. Inc.
Bill Watkins joined Seagate in February 1996 when it took over Connor Peripherals, where he was president and general manager of the Disk Operations Division, and became the executive VP for the recording media business. He progressed to COO in August 1998, president in June 2000, and CEO in July 2004, succeeding Luczo.
Seagate will report fiscal second quarter financial results on Wednesday, January 21, 2009 after the close of the market. They're expected to be bad with Watkins saying revenues dropped precipitously in December and a 10 per cent head count reduction now confirmed.
The odds are that Watkins is taking the can in some way for what look to be pretty bad if not disastrous quarterly results and, possibly, letting Western Digital gallop past Seagate in notebook disk drive technology.
Update
When Watkins took over as CEO, Seagate shares were priced around $12. They rose to a peak of $28.60 in November 2007 but have fallen fairly steadily throughout 2008 to the current $5.51, providing a market capitalisation of $2.75bn. In contrast, arch competitor Western Digital's shares cost $7.0 in July 2004, rose to $37.53 in May 2008 and have then slumped to $13.66, giving it a market capitalisation of $3.03bn. WD has done proportionately better than Seagate.
Watkins may also have disagreed with the R&D reductions, given that he has been identified with the company's solid state drive development initiative.
Seagate was not immediately able to add any more information. ®