If you're worried your son or daughter is speeding around town in the family saloon and simultaneously tapping away on their G1 Googlephone, then rest easy. Because an Android platform application's been developed that prevents texting when driving.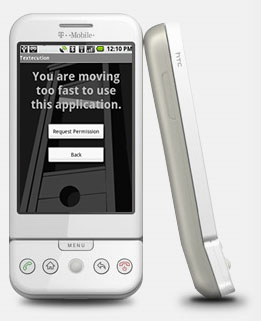 Textecution blocks text messaging on moving phones
Although the firm behind Textecution is keeping mum about the app's technical specifications, it said that the software's able to recognise when a phone's moving in excess of 10mph. At this point, the software disables the user's ability to both send and receive text messages.
Once the software detects that the phone's slowed down – perhaps the owner's pulled up at the lights? – it enables the Android phone's texting features.
Register Hardware is a little sceptical, though. For example, won't the app just push drivers to make calls instead? Regardless of whether the G1's connected to Bluetooth headset.
The software doesn't appear to make any distinction been modes of travel, either. So texting functions could be disabled by default when the user's just a passenger and when they're sat on a train.
Textecution's currently only available for the G1, but plans are underway to expand its capabilities onto other handset platforms. It costs $10 (£7/€8) and can be downloaded online. ®
Similar topics