A California congressman has proposed legislation that would require cigarette-like health warning labels be placed on video games made for mature audiences.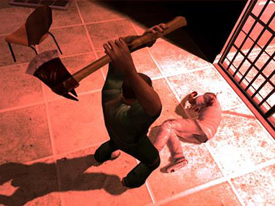 Exposure to this picture may cause aggression
As Reg Hardware reported earlier today, Democrat Congressman Joe Baca introduced "The Video Game Health Labeling Act of 2009" to the US House of Representatives last week in an effort to force a warning onto all titles rated "Teen" (13+) or higher by the Electronics Software Ratings Board (ESRB).
The label would read, "WARNING: Excessive exposure to violent video games and other violent media has been linked to aggressive behavior."
Virginia Republican Frank Wolf co-sponsored the bill, which has been referred to the House Energy and Commerce Committee. The label would be required both for video games sold retail and distributed electronically.
"The video game industry has a responsibility to parents, families and to consumers — to inform them of the potentially damaging content that is often found in their products," said Baca in a statement. "They have repeatedly failed to live up to this responsibility. Meanwhile research continues to show a proven link between playing violent games and increased aggression in young people. American families deserve to know the truth about these potentially dangerous products."
The congressman, however, didn't specify exactly how the game industry has failed to inform customers about game content — or what it's responsibilities are beyond prominently advertising ratings assigned by the ESRB.
Baca — who fancies himself an advocate on issues of sex and violence in the media — said recent studies point to a "neurological link" between playing violent video games and aggressive behavior in children and teenagers. He cites research from the trade journal Pediatrics, the University of Indiana, University of Missouri, and Michigan State University.
We've already touched on the Pediatrics study recently, so let's go down the list from there.
The University of Indiana study fingered by Baca showed that brain scans of kids who played violent video games displayed an increase in "emotional arousal."
The principal investigator, however, fell short of claiming a link between video games and real-life violence, but encouraged parents to be aware of the types of games their kids play.
The 2005 University of Missouri study showed that when exposed to real-life violent images, subjects who frequently played violent games showed a diminished reaction to the pictures in brain scans.
When the same participants were given an opportunity to "punish" a nonexistent opponent in the form of a loud blast of sound in a competitive game, avid gamers dealt out the most severe (loudest) punishment.
Finally, the Michigan State University research found that 13 male participants displayed brain activity patterns that are "considered as characteristic for aggressive cognitions and affects," when scanned while playing a violent first person shooter.
On the other side of the argument, a study by the University of Essex last year showed aggressive games may actually help lower the number of violent youth crimes.
"I am proud to introduce the Video Game Health Labeling Act of 2009, and am hopeful my legislation can work to stop the growing influence of violent media on America's children and youth," stated Baca.
Whether video games are actually the cause of real-life violence or simply the subject of overblown controversy and fears like Rock and Roll or D&D was to previous generations — few would argue that young children should be readily exposed to violent material. But health warning label solving the problem of kids getting ahold of violent games is certainly rather questionable. Frankly, the bill smacks of easy political grandstanding. And most of this type of legislation tends to get struck down.
The type of parent who would buy their 8-year-old Grand Theft Auto is also probably not someone who's going to catch the additional warning — given they've already ignored the ESRB warning, the title, the guns on the cover, and the description on the back of the box. ®