InPhase Technologies CEO Nelson Diaz has broken his silence over the company's much-delayed holographic drive saying it would ship later this year.
There had been fears that Longmont, Colorado-based InPhase could sink without trace because of the recession as it has been plagued with delay after delay in the development and bringing to production of its 300GB Tapestry drive.
During 2008 shipment was scheduled first for May and then for December but that date was preceded by two rounds of staff layoffs as development stuttered. There has been silence from the company since August last year, and this report is a significant public indication that development has continued and should, hopefully, conclude with a product launch and subsequent shipments.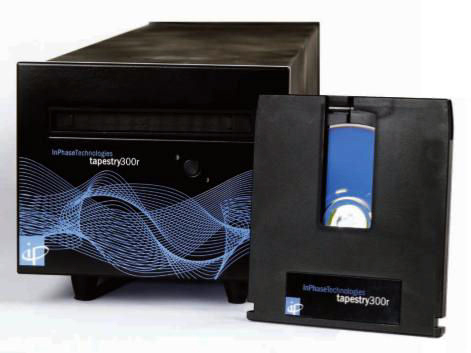 The drive stores data as holograms [more here] on an optical disk with a 20MB/sec transfer speed and a 50-year lifespan. The drives were said to have a price of $18,000 in April last year, the disks costing $180 each in volume, and there was interest from motion picture studios and other film media companies needing to store movie and video files for long periods.
Development started in 2000 at venture capital-backed InPhase, and has been hard going. With Plasmon and its UDO technology now effectively dead, the InPhase disks will have a data capacity lead over DVD and Blu-ray (25 or 50GB) disks.
InPhase and Ikegami are set to demonstrate video workflow using Tapestry holographic storage at the US National Association of Broadcasters show, NAB 2009, in Las Vegas in April where Ikegami has a stand.
Diaz is reported as saying that a 100-year lifespan disk may be achievable. ®