Joshua Schachter joins spreading Google tree
You're my wife now, Dave Josh
---
Delicious founder Joshua Schachter started a new job at Google yesterday after leaving Yahoo! in June last year.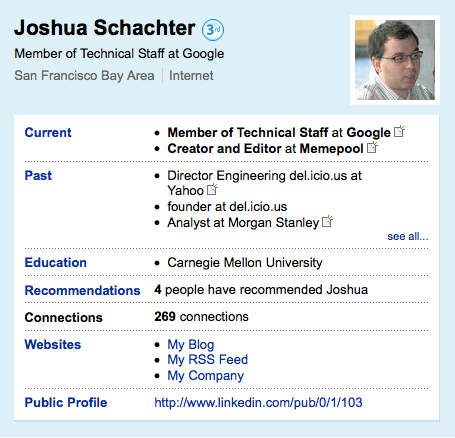 Josh revealed his new employer via his LinkedIn account.
Schachter hasn't revealed what he'll be doing in his new role at Mountain View - his LinkedIn account simply states he is now a "member of technical staff at Google".
Schachter joined Yahoo! in 2005 when it acquired Delicious, which is a social bookmarking service. However, he was among a number of high-profile execs who quit Yahoo! last summer amid will-they-won't-they talks about a possible Microsoft takeover of the internet giant.
In June Yahoo! issued this statement about the Delicious founder's departure: "Joshua Schachter has contributed greatly to Delicious' success and Yahoo's success in our social search efforts... Yahoo wishes him well in his next endeavor."
Presumably, Google will be hoping he can bring some of that talent to the party. ®