This article is more than 1 year old
NFC sees future disappear in a Tag
Printing offer more bytes for your buck
NFC pioneers Tikitag has admitted working on a printed version of their NFC starter kit, and is even hoping to talk to Microsoft about standardising the technology around the software giant's Tag product.
NFC is designed to allow mobile phones to pick up data from nearby unpowered sources, and has been pushed hard by mobile manufacturers (notably Nokia) as the next stage of handset functionality.
Tikitag sells an NFC development kit for those interested in trying the technology: $50 gets you a USB reader and ten tags to play with. But the company admitted, when talking to betaNews, that it'll be launching a visual version of its product come March as buyers are balking at the cost of the tags.
Microsoft's Tag has drawn a lot of attention to the ability of printed codes to provide the only profitable part of NFC for the cost of colour printing, removing the commercial incentive for NFC. Unsurprisingly Jeremy DeClerq, Tikitag's product manager, says the company might well end up talking to Microsoft about standardising the technology.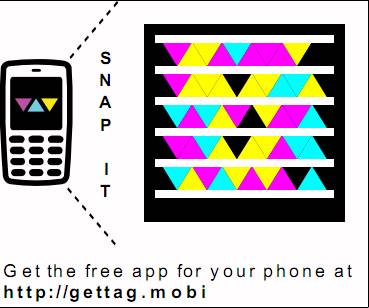 The idea of reading barcodes, or variants thereof, using a mobile phone camera is nothing new. Various companies have developed the idea over the years, and most managed impressive demonstrations involving automated reading of business cards and posters; but to gain acceptance a single ubiquitous standard is needed, and until now no one has had that kind of market power.
Displaying barcodes on a mobile phone screen is nothing new either, as Mobiqa has demonstrated many times. Mobiqa has also started to make use of the flexibility of the technology, such as offering last-minute gig tickets to nearby fans when others fail to arrive, and providing exclusive access to venues for customers of a particular network operator.
NFC can do all this, and is a more elegant technology - but it's only going to get embedded in mobile phones if network operators ask for it, and they aren't going to do that unless they can see revenue. NFC Tags embedded in posters were supposed to provide that revenue stream - enhanced advertising would pay for the hardware and other applications would ride on the back of that. But with Microsoft pushing Tag into that application, it's hard to see how the network operator is going to make money out of NFC.
Perhaps customers will ask for NFC for their ticketing applications, but it's still network operators who push handset design and just as integral cameras came to promote MMS, and Bluetooth was bundled to sell headsets. So NFC needs a revenue-generating application, and one that can't be trumped by Microsoft. ®