Brit loonies adventurers headed to Timbuctoo by 'flying car'
'Extreme golfer' in Gibraltar Chitty2Bang2 bid
An adventurous office developer and "extreme golfer" who was the first man to circumnavigate the UK by jetski now plans an expedition to Timbuctoo in a combination motorised parachute and dune buggy. The "Skycar" vehicle is described as "the world's first bio-fuelled flying car".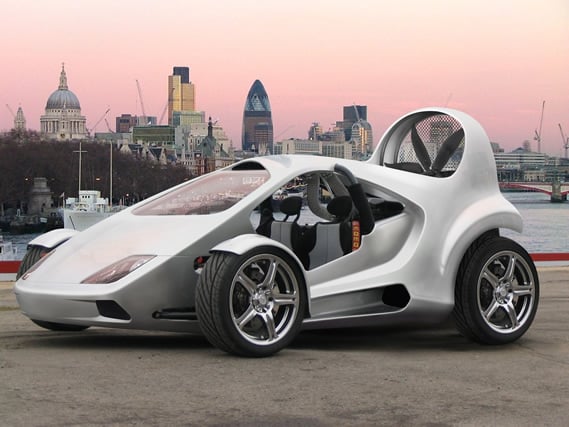 The poor man's flying car.
Neil Laughton is a modern British adventurer of the usual sort, having undertaken dozens of corporately-sponsored desperate ventures around the world in aid of good causes. Like many of his wilderness-prowling colleagues he is a regular on the after-dinner speaking circuit, on top of his day job as chairman of an office development firm.
In addition to being one of the first two men ever to complete the Awesome Eight Golf Challenge ("golfers must play eight of the most remote and climatically extreme golf courses in the world... not using any caddy or cart"), Laughton has ticked off many another badge: the Seven Summits (highest mountain on every continent), the round-UK wetbike caper, skiing the North Pole, motorcycling the Sahara etc.
Prior to becoming an inspirational biz kingpin and extreme globetrotter, Laughton was a doorstep salesman and - briefly - an officer in the Royal Marine Commandos. He qualified for the green beret, which happens to young marine officers about two-thirds of the way through their initial training, but "when his father died, his confidence and concentration left him and he was discharged". Later he joined the Territorial Army SAS, serving alongside noted wilderness loony Bear Grylls - with whom he has since collaborated, for instance on a recent Everest-by-paramotor expedition.
So far, so what. But in recent times Mr Laughton's CV suddenly becomes interesting - according to his website, during 2008 he "developed the World's first high performance, road legal, bio-fuelled flying car". That's enough to make the Reg flying-car desk sit up and take notice.
Tomorrow, Laughton's "Parajet Skycar" will set off on an expedition to the fabled desert city of Timbuctoo/Timbuktu/Tombouctou in Mali. The Skycar will do much of the journey by road, but will take to the air to get over the Alps and the Straits of Gibraltar, apparently. It will be accompanied by a large cast of adventurous nutters in various support vehicles.
Unfortunately, the Skycar is basically just a paramotor/powered paraglider with wheels - or a dune buggy with a propulsion fan on the back, able to fly along suspended beneath a fabric wing closely related to advanced parachutes. Though Mr Laughton will lead the Mali expedition, the Skycar actually comes from paramotor company Parajet, run by Laughton and Grylls' Everest backpack-birdman buddy Gilo Cardozo.
To be fair, the Skycar has a little bit more special sauce than the typical paramotor claiming to be a flying car. Cardozo's firm has developed the "Rotron" rotary engine, which with supercharge and fuel injection offers a 34,000 foot ceiling - necessary for the recent Everest caper but not for normal operation. The "one-off" wing for the Skycar comes from paramotor canopy firm Paramania, and is said to represent a step forward on normal fabric aerofoil tech.
Overall you get a fairly normal dune buggy able to do 100mph on the road and go offroad too, with "rally car performance". In three minutes you can get the canopy out of the boot, lay it out behind the car, and drive away into the air after a takeoff run of just 200m. In the air the machine cruises at about 70mph and two to three thousand feet - though it can reach 15,000 according to Cardozo. It's thought that airspeeds of up to 100 mph are becoming practical for fabric-wing craft, beginning to approach the performance levels of normal light aircraft.
Disappointingly, the inventors make the oft-repeated "capable of beating congestion for the commuter" claim, which is of course untrue - factors of air safety, noise and lack of places to land and take off mean that such aircraft will never be able to fly into and out of urban areas above the traffic jams. But in other respects, the Parajet machine seems as near to being a flying car as most contenders.
Still, though. Normally, you'd really rather have a flying car with rigid wings, able to cruise at 115mph as opposed to 70 - and with twice the aerial range. The Terrafugia Transition, for instance, apparently to get its first flight test next month.
Refreshingly for flying-car inventors, the Terrafugia people truthfully specify up front that their machine will not let you leapfrog over the rush hour, any more than a normal light aircraft (or a car) can. But it will do anything a normal light aircraft or car will do, all in one machine.
On the other hand, a Transition - available from 2010 - will set you back $148,000. Cardozo has hopes of selling a "Road Sport Model" Skycar in years to come for just £50,000 ($76k), according to the BBC.
You pays your money and takes your choice - and fair cop, if you need to drive about on the ground in the deserts of Mali, you'd probably go with the Skycar rather than the Transition. ®