ASA rules on 'USB Fornication Optimiser'
Boffer offer clearly a spoof, watchdog declares
The Advertising Standards Authority has taken time from ruling on matters of international import to pronounce judgement on boffer.co.uk's USB Fornication Optimiser - a freebie the site offered back in August last year designed to "reduce the time it takes to conceive your baby".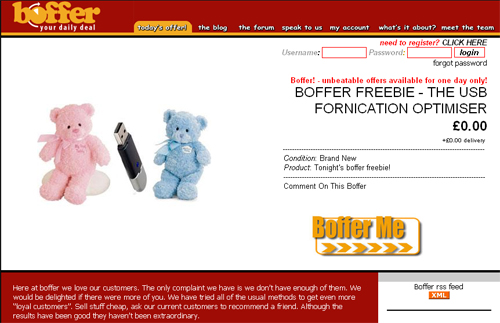 For those of you not up to speed on boffer and its amazing fertility device, the site every day offers punters an "amazingly low priced" piece of kit and created quite a stir with the USB freebie. The blurb explained: "Here at boffer we love our customers. The only complaint we have is we don't have enough of them. Since kidnapping people and forcing them to buy stuff off us is a bit extreme, we have decided that you guys will have to help us by manufacturing new customers...
"With this in mind, we have teamed up with The Shenzhen Cattle Breeding Company to launch by way of a freebie (that's right at no cost to you) a brand new product... We bring you THE USB FORNICATION OPTIMISER."
Well, those who attempted to avail themselves of the offer received an email redirecting them to "something much better" - this video:
All pretty harmless, you might think, but four people complained to the ASA that "the promotion was misleading because it was not clear that it was not a genuine offer", while three decried that it was "offensive and insensitive to people who were having difficulty in conceiving a child".
Boffer clarified to the ASA that the promotion was "a joke intended to 'rick roll' respondents", that its savvy target audience was "unlikely to have been misled into thinking the product was genuine" and that "no respondents had suffered any financial loss because it was designed as a free promotion".
Regarding possible offence, the site said it "catered to a cult audience and adopted a humorous marketing style, where the descriptions openly mocked the product" but accepted "the subject matter in question was sensitive for a minority of readers" and "regretted any offence the promotion had inadvertently caused".
The ASA probed the promotion under CAP Code clauses 3.4 (Substantiation) and 7.1 (Truthfulness) and clause 5.1 (Decency), and declared it innocent on all charges.
With reference to the potentially misleading nature of the promotion, the watchdog ruled: "We considered that the target audience, who had visited the site before, were likely to be aware of its humour; they were therefore unlikely to be misled into believing that Boffer were offering a free fertility monitor. We concluded that the ad was unlikely to mislead."
On the matter of decency, the ASA said: "We acknowledged the ad might be considered by some to be in poor taste but considered it was appropriately targeted at those who, having visited the site before, were likely to be aware of the nature of its humour. We concluded it was unlikely to cause serious or widespread offence." ®
Despite avoiding a bite in the 'nads from the ASA, boffer has grimly decided that in future its product descriptions "will no longer be fun" and it will "no longer have funny pictures". ®