Curve/ball phone-cam tech 'to match professional kit'
Puts a paparazzo snapper in every pocket
American boffins say they have cracked one of the main problems of camera design - the limitations imposed by the use of flat film or photoreceptor arrays. They say that their new curved photoreceptors, modelled on the human retina, could offer mobile phones able to take pictures as good as those from today's bulky professional cameras.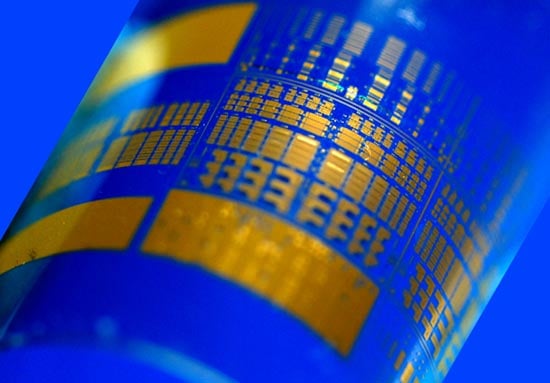 The flexible pocket paparazzo.
At the moment, cameras use lenses to focus an image onto a flat area - either a piece of film or a digital photoreceptor array. At the centre of the image the lens can be precisely focused to the right distance, throwing a sharp image. Moving away from the central point, however, the distance from the lens changes and quality begins to be lost.
Expensive, bulky pro-grade lens arrays can compensate for this to some extent, but even the best of them suffer from stretch or focus loss at the edges of a picture. In compact, cheap systems like phone or laptop cams, problems are correspondingly more severe.
The human eye does better. The retina which receives the image is curved, maintaining a more constant distance from the lens and allowing a better image to be received. (The eye does lose a lot of resolution and colour away from the central "fovea" region, but this is due to the distribution of rods and cones on the retina.)
But now, associate prof Zhenqiang "Jack" Ma of Wisconsin Uni and his colleagues have developed bendy photoreceptors which they believe could be used to create digital cameras with curved imaging arrays. At the moment the new kit will bend in only one direction, but Ma thinks he can produce hemispherical ones soon.
"If I take a picture with a cell phone camera, for example, there is distortion," says the prof. But with a curved receptor array, there's no need for the multiple compensating lenses normally required for proper photography.
"If you can make a curved imaging plane, you just need one lens," Ma continues. "That's why this development is extremely important."
Ma's new, bendy light detectors are made from germanium "nanomembranes", it says here. The manufacturing plan is to place these in a layer onto appropriately-curved plastic backing.
"We can easily realize very high-density flexible and sensitive imaging arrays, because the photodetector material germanium itself is extremely bendable and extremely efficient in absorbing light," according to Ma.
There's no word on any commercial deals or timelines for the new pro-quality phonesnap kit, however. A Wisconsin Uni report can be read here. ®