Mom stole daughter's ID to shake pom-poms
Enrolled in high school to pursue cheerleading dream
A 34-year-old mother who stole her teenage daughter's identity and used it to enroll in high school to pursue her dream of becoming a cheerleader was yesterday committed to three years in a psychiatric unit, the Times reports.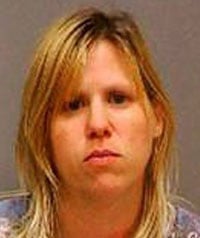 Wendy Brown (pictured), signed up at Ashwaubenon High School near Green Bay, Wisconsin, and subsequently "went to a pool party with other students and even attended a class" as well as trying out for the cheerleading team.
While her fellow alumni later admitted she "appeared suspiciously older that the rest of the students", she apparently had "the convincing demeanour of a teenager".
The wheels came off Brown's pom-pom plan when she was reported last August for truancy after failing to turn up at school. She was found languishing in a police cell, having been charged on an unrelated forgery rap.
In fact, Brown had a history of fraud and cops described themselves as "not surprised that she had been able to convince people she was her 15-year-old daughter, who is living with a relative in another US state".
While Brown "stated that she wanted to get her high school degree and be a cheerleader because she had no childhood and was trying to regain a part of her life she missed", as court papers put it, police are sceptical.
Lieutenant Jody Crocker, an Ashwaubenon Public Safety officer, said: "Ms Brown's criminal history says she's been involved in fraud and deceptive practices across the country for most of her adult life. It comes to no surprise to us that she was able to pull something like this off.
"I can only guess if history repeats itself her motive has something to do with money. Unless we take it at face value that she wanted to go and relive her childhood. I personally don't buy that."
A court yesterday cleared Brown of identity theft on the grounds of mental impairment and instead dispatched her to the aforementioned psychiatric unit. ®