Microsoft expands languages with ESP
Is anybody there?
Microsoft has its own language: 230 acronyms to describe everything from its myriad of licenses and products to different business units and target markets.
They have evolved during the company's thirty odd years with a clear purpose: to help speed up meetings and streamline discussions by ensuring everybody's on the same page as the company's grown.
It seems, though, Microsoft has finally gone too far for one employee by adopting an acronym that's either meant to be self-referential or rely on your powers of mastering the paranormal for an explanation.
Eric Ligman, global partner experience lead for Microsoft's worldwide partner group, has blogged that he recently opened an internal document intended to explain the company's acronyms and found a new one - ESP - on the list.
What does ESP stand for in the world of Microsoft? ESP, stupid, as you can see from this screen shot Ligman helpfully posted on his blog: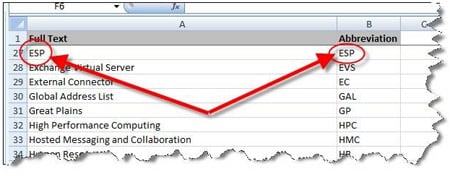 As Ligman - on a mission to demystify Microsoft acronyms - pointed out, the irony is that in the non-Microsoft world, ESP stands for Extra Sensory Perception - defined as the ability to gain information using paranormal means.
Presumably the definition of ESP in the Microsoft universe comes to you through paranormal means upon opening the document. This is the year Microsoft is promoting non-traditional input methods for Windows, after all.®