This article is more than 1 year old
NASA announces 'name the inflatable Moon tent' compo result
New Jersey kids commemorate Brit exploration ship
NASA has announced the results of a competition among American schoolchildren to name an inflatable habitat module intended for use as a lunar astronaut tent. The winning name is "Resolution", chosen by New Jersey nippers with Captain Cook's pre-USA exploration ship in mind.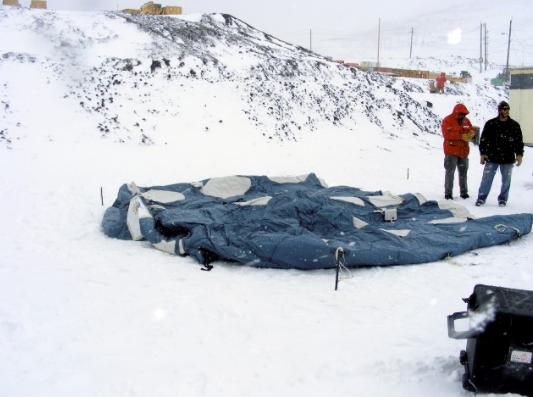 Inflatable tent, check. Moon pegs, check. Air bottles... Jeez, Larry, for crying out loud
The inflata-hab air tent is currently being trialled by NASA for durability in arduous conditions at McMurdo Station in Antarctica. According to space-agency boffins, it "looks something like an inflatable backyard bounce house for children, but is far more sophisticated".
The pneumo-podule offers 384 square feet of pressurised living space, according to NASA, and up to eight feet of headroom. It is one of various options being considered for future Moon and/or Mars base accommodation in future. The notion's main snag is that of poor resistance to space radiation - alternative ploys include subselenean burrow habitats, or ones protected by banked moon dirt ("regolith").
When it came to naming the inflatabase prototype, NASA decided to hold a competition among US schoolchildren. A class of ninth-grade kids (14 to 15 year olds) at Holy Cross High School in Delran, New Jersey, came up with the winning "Resolution" moniker. According to NASA:
The exploration vessel Resolution was the first ship to cross the Antarctic Circle in January 1773 and was under the command of Captain James Cook. Holy Cross students said the new habitat represents an advance in technology, much as Cook's ship did. The students also pointed out that the word "resolution" aptly describes America's intent to explore space.
There's more from NASA at the Antarctic inflatable habitat blog. ®