Pioneer calls a halt to LaserDisc hardware production
Still making players, 18 years on
Pioneer is to stop making LaserDisc players. Yes - amazingly, perhaps - it's still punching them out, and will produce 3000 more before calling it quits.
Despite the rise of DVD in the late 1990s, the emergence more recently of Blu-ray Disc and the fact that no new LaserDisc titles have been released in the US since 2000 and Japan since 2001, Pioneer still has machines supporting the format in its line-up.

It's been making machine that support the format since 1980, since when it's shipped 9.5m of them, it claimed. Overall LaserDisc hardware sales total 16.8m it added, by way of pointing out it accounts for more than half of them.
These days, LaserDisc has found a niche in the karaoke market - two of Pioneer's last three LaserDisc players are support the singalong technology. They're also DVD players.
While the information on a LaserDisc is read using a laser - just like CDs and DVDs - the video and audio information was analog not digital. Later LaserDiscs aquired digital soundtracks, including surround sound. Despite the analog video, LaserDisc still yielded a better picture than home videotape, thanks to its higher resolution. Fans argue the picture's better than DVD, because there are no data-compression artefacts. LaserDiscs didn't suffer picture degradation over time as VHS does.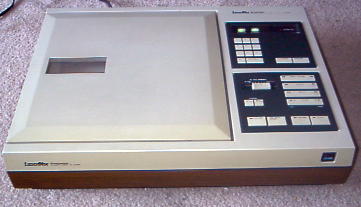 Pioneer's VP-1000: the company's first LaserDisc player, released in 1980
Image courtesy LaserDisc UK
But they couldn't record and so never achieved the widespread use that VHS won. In turn, that prevented prices falling to match tapes and players.
But Pioneer, for one, carried on with the format. It claims it's getting out of the business at long last because "it has become difficult for Pioneer to procure the parts required to produce LD players".
That said, Pioneer added it will maintain "the spare parts required to restore the normal functions of Pioneer LD players during the minimum storage period". ®