Violet Mir:ror DIY RFID kit
Attach the internet to objects. Apparently
The pad itself is quite alluring. An illuminated rim glows different colours and the host computer plays a brief start-up tune when it's connected. When detecting tagged objects, it squawks momentarily and flashes like a beacon if the object remains on the pad.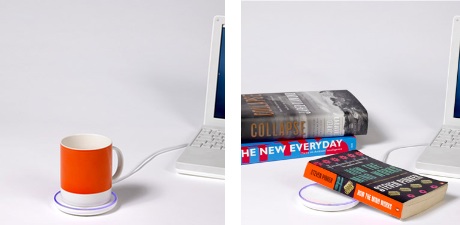 Tag anything you like
The setup works on two levels. Once logged in to your mandatory Violet.net account, communication options with the outside world can be established, but for personalising objects and assigning tasks to them, the Mirware application comes into play. Mirware needs to be running at all times to keep the system active on the host computer and requires a log-in when objects are to be configured. Placing a tagged object on the Mir:ror for the first time pops up a personalisation page where the object can be renamed and a JPEG image added, but it only works with the suffix '.jpg'. Images named 'something.jpeg' are rejected.
Accidentally clicking 'Upload this picture' before actually choosing one produced a server error message that couldn't be dismissed - quitting Mirware was the only option. The red X appeared on the menu icon, and the unplug-replug process began in earnest. Quite a few hoops just to personalise a plastic bunny. The options are the same for any RFID object, even an Oyster card.
The next step is to assign functions to the tagged object. From within Mirware, the Applications page has an array of categories: Music, News, /dev, Culture, Lifestyle, Tools, Day2Day life, Communication, Sports & Health, Finance, Kids, and Science & Tech. The majority of content links to podcasts or RSS feeds. Clicking 'Back' to exit a category and return to the Applications grouping, mysteriously changes the language. Even though the drop-menu choice shows as English, the page becomes French and sometimes German or Spanish. For the most part you can work around this, but under Tools, the Bla Bla Bla application, which makes an object talk, will default to the wrong language.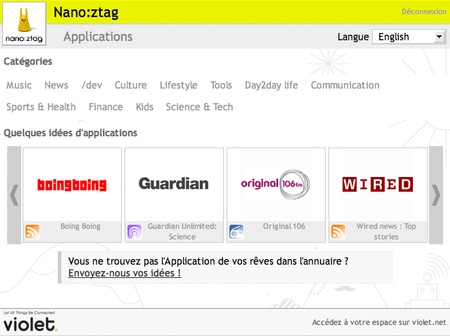 Lost in translation
Bla Bla Bla does include a wide range of voices so this can be changed, but will the target market be so savvy? Still, this led to the discovery that Violet offers five British voices for speaking tasks, and hearing these familiar, albeit computerised, accents really does take the personalisation process a step further into one's own reality. Jolly good show, chaps.