Violet Mir:ror DIY RFID kit
Attach the internet to objects. Apparently
While assigning a podcast was easy enough, with the rabbit spurring the Mirware sound player into life, the option to open a file was far more enticing. Testing with Apple's Garageband worked out nicely: choosing a song file preconfigured with an empty audio track and the built-in guitar tuner at the ready. Deciding against tagging a guitar but using a rabbit on the Mir:ror instead, this composition application was up and running for instant tuning or recording.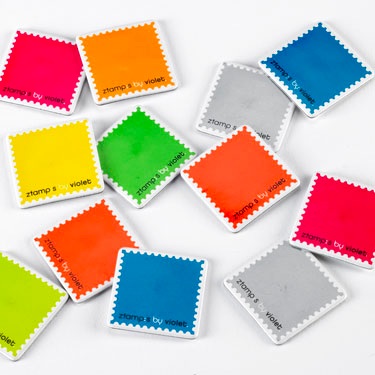 Ztamps: Mir:ror comes with a set of colourful tags
The only gripe here is that you can't browse for the target file, the path has to be entered manually. Again, this seems unnecessarily complicated for a consumer product.
The Tools category has the more creative options, even allowing the Oyster card to have the TFL travel news web page assigned to it, so that a swipe would reveal any service interruptions prior to an outing. More than one application can be assigned on an object, but you can only edit or delete an application, not deactivate it. This is a pity, as some application set-ups take a bit of effort and switching between uses would be handy.
Each object can be assigned an e-mail address and by default has a 'My Ztamp's Mailbox' application applied to it. It can be removed, but you'd be killing off a remarkable range of features in the process. All the RFID objects used with the Mir:ror, whether it's a sticker on a kid's book that launches a photo gallery or a rabbit that plays an iTunes playlist, can be sent messages using the Violet.net site. Your account can have its own library of multimedia files that can be dispatched to your objects or messages sent and the text read aloud.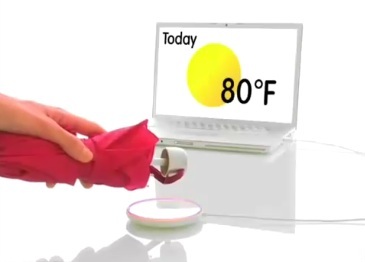 Tap your brolly to check the weather
The thinking here is that whilst logged in to Violet.net, Romeo sends a message to Juliet and when she next uses her rabbit, she has the pleasure of aural text as well.