Prolific worm infects 3.5m Windows PCs
Conficker wriggles far and wide
---
A prolific new worm has spread to infect more than 3.5m Windows PCs, according to net security firm F-secure. The success of the Conficker (AKA Downadup) worm is explained by its use of multiple attack vectors and new social engineering ruses, designed to hoodwink the unwary into getting infected.
The worm uses a complex algorithm to develop a changing daily list of domains which infected machines attempt to establish contact with. Hackers need only register one of these possible names to establish contact with the botnet established by Conficker. The tactic is designed to frustrate attempts by security watchers to dismantle the command and control network associated with compromised machines.
But the approach also made it possible for F-secure to register a domain infected machines were due to contact and monitor what happened. Analysis by the firm, based on data from this experiment, suggests that 3.5m machines or more are under the control of unidentified hackers.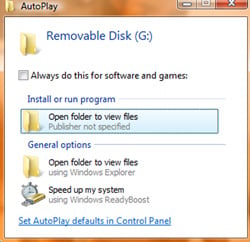 By comparison, the Storm worm was made up of somewhere between 500,000 and 1m zombie drones at its September 2007 peak, according to one recent estimate.
Conficker began circulating in late November. As well as exploiting the MS08-067 vulnerability patched by Microsoft last October, brute forces administrator passwords in an attempt to spread across machines on the same local area network. The malware also infects removable devices and network shares using a special autorun.inf file.
Analysis of the code by security watchers at the Internet Storm Centre has revealed its use of clever social engineering ruses that means users plugging an infected drive into a Windows machine might be fooled into thinking they are only opening a folder when they are actually clicking to run the worm's viral payload.
Security experts suggest that users may want to disable Autorun, or even prohibit the use of USB devices, as a precaution. ®