Honda shows off Insight hybrid
67mpg, anyone?
Honda has already made it clear that it doesn't hold with all this plug-in battery powered vehicle malarkey but sees the future belonging to good old petrol-hybrids and hydrogen fuel-cell power.
So while World+Dog – well, Ford and Toyota – were busy announcing plans for lithium-ion battery-pack plug-in hybrids at the Detroit Motor Show this week, Honda kept mum on the subject of plug-ins when it unveiled its new Insight hybrid.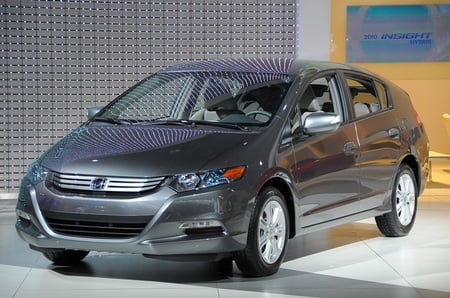 Honda's Insight: watch out, Prius...
Presumably, if sales of plug-in hybrids really take off in the US, we will all get to hear the noise an Insight makes when Honda puts it into reverse, fast.
A recently leaked Belgian brochure for the Insight indicates the European version of the vehicle will have a 87bhp, 1.3l engine paired up with a 13.6bhp (10kW) electric motor. Fuel consumption is rated at a over 67mpg on the open road or a combined cycle of 44mpg, all while emitting just 101g/km of CO2.
The Belgian document contained no pricing information but in the US price is very much one of the Insight's strong cards – Honda is saying the car will be cheaper than the current Civic hybrid - which starts at $23,650 (£16,190/€17,949) - and much cheaper than its nemesis, the Toyota Prius. The clever money seems to be on a UK price of around the £15,000 mark.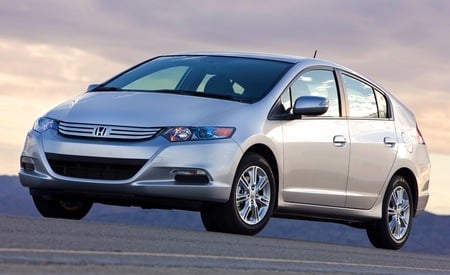 Ready to reach 67mpg?
The Insight goes on sale in the US in April, with European sales due to follow at an as-yet-unspecified date.
Of course, all this is not say that Honda are wholly averse to all things plug-in related. In his end-of-year speech, Honda's President, Takeo Fukui, said the company will release an electric motorcycle in 2010. ®