This article is more than 1 year old
Canon Digital Ixus 980 IS compact camera
Impressive performance
Review There's an 'R' in the month, so it must be time for another Canon camera. Okay, we exaggerate a little, but you have to admit, Canon does churn out new models at a rate of knots. At the time of writing, the 980 IS is the top-of-the-range Ixus, so what does it offer to earn this position?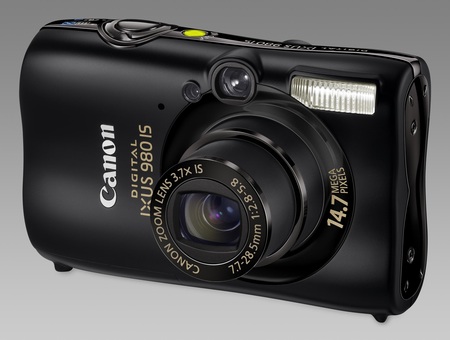 Canon's Digital Ixus 980: enhanced with a DSLR-oriented image chip
When Canon launched the Ixus 970, many of us thought the company had signalled an end to the pixel wars. You know the story: company A beings out a camera with the largest number of pixels only to be trumped a month later by a product by company B. It was good for the advertising copy and it sounded great on the shop floor, but in reality, adding more and more pixels to a camera's CCD chip isn't always a good thing.
First, there's the law of diminishing returns, and we suspect few people would notice the difference between say, an 8Mp and 10Mp image, even when printed out. The second problem is packing more and more pixels onto a small CCD increases the problem of noise. The Ixus 970 is a 10Mp model; the 960, a 12Mp product; so guess what the Ixus 980 offers? Well, it has 14.7 million pixels (effective). Remember, this is a compact camera and not a DSLR. Canon says the 980's Digic 4 processor - the same processor used in the EOS 5D Mark II - keeps noise levels low, but as the saying goes, we'll be the judge of that.
The Ixus 980 shoots JPEG images up to a resolution of 4416 x 3312 pixels and down to VGA (640 x 480). There are also three compression settings. An image shot with the highest resolution and least compression is about 6.3MB in size, so it's hardly generous of Canon to provide users with a 32MB SD card that struggles to hold four images at this resolution. Come on, Canon, with memory prices being what they are, surely you could chuck in a decent-sized card?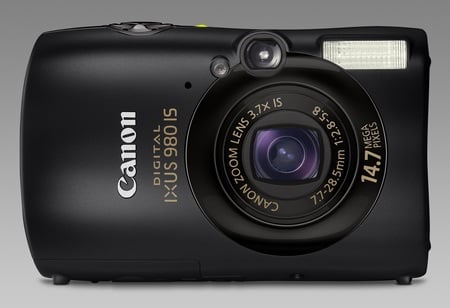 Chunky compared to some compacts
The Ixus 980 comes in silver or black and has a metal body with the inevitable plastic fixtures and fittings. It's not the smallest compact on the block, measuring 96.7 x 62.2 x 27.9mm and weighing around 188g when loaded with battery card. Canon has given it a gorgeous curvy shape - from the right-hand side, it looks like a figure of eight - and it feels nice to hold. It's a pocket-sized camera, but if you're used to one of the ultra-slim products on the market, it might feel a tad large.