Canon Digital Ixus 980 IS compact camera
Impressive performance
---
A quick tour of the camera's body reveals the power button, the shutter button and zoom ring on top. At the back is an optical viewfinder which sits on top of a 2.5in LCD. To the right are a mode dial, printer and playback buttons, and below these are a control dial, plus Display and Menu buttons. A plastic cover on the right side of the camera body covers a mini USB port, and at the bottom is a flap for the lithium-ion battery and SD/SDHC card.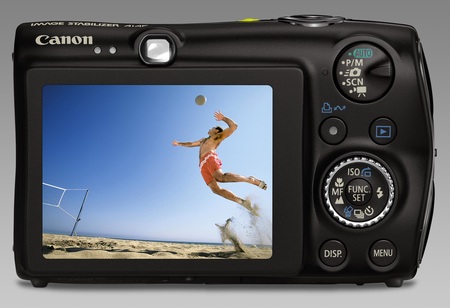 There's an optical viewfinder as well as an LCD
In addition to all those pixels, the Ixus 980 offers a 7.7-28.5mm f2.8-5.8 lens, equivalent a 36-133mm lens on a 35mm camera; 3.7x optical zoom; image stabilisation system; face detection with a clever twist (see below); shutter speed range of 15-1/1600s' ISO range of 80-1600, with an optional 3200 setting; a ton of playback and image manipulation effects, including red-eye reduction and iContrast, a sort of digital fill-in flash effect that can be used while taking a shot or during playback for correcting under-exposed subjects; movie recording in both VGA and QVA resolution at 30f/s; 20 auto modes, including night shot and panoramic stitching; and last, but definitely not least, manual control.
Yes, you read that correctly – the Ixus 980 offers manual focus, exposure and shutter speed, albeit with one or two limitations. That said, it's a darn sight better than the limited manual control offered by the Ixus 970.
In terms of handling, the Ixus 980 takes around two seconds to wake up and prepare for action. Shutter lag isn't bad, although there was the occasional pause when shooting indoors. The menu button is used for selecting basic settings, such as flash and face detection, while the mode dial, function button and control dial are used for changing parameters. It's not a bad system, but it is a little fussy.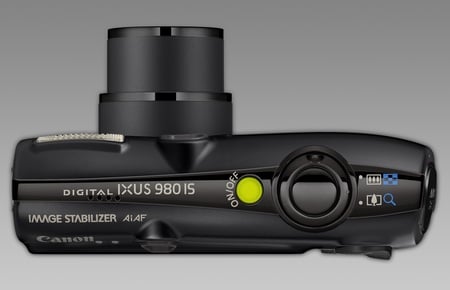 Decent manual control set-up included
For some reason, Canon has put the Program AE and manual settings together on the mode dial, so you then have to use the control dial to select manual - PAE is the default setting. In manual mode, you can select from a wide range of shutter speeds, but aperture settings are limited to a choice of two. For example, if you're shooting at the extreme end of the telephoto range, you can select an aperture size of just F5.8 or F16.