Canon Digital Ixus 980 IS compact camera
Impressive performance
---
There's also a Quickshot function, which lets you set a range of parameters on the LCD screen - such as flash, exposure compensation and white balance - before taking the shot through the viewfinder.
In terms of performance, the Ixus 980 was very good, with fine detail, contrast and colour reproduction. So did the extra pixels make a difference to the picture quality? Yes, but we suspect that the Digic 4 processor played a bigger role. The iContrast feature is nice to have, but there was little need to deploy it, either while shooting live or in post-production.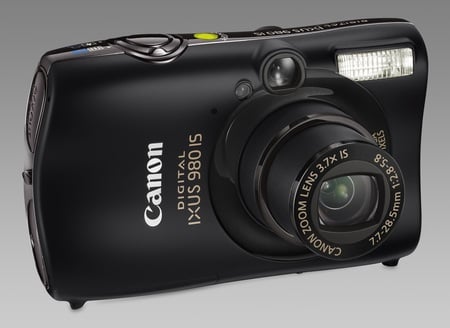 Better than its predecessors
In terms of noise, those extra pixels didn't seem to have had an adverse effect on the amount of noise generated, which must be down to some hard work by the Digic 4. As expected, noise begins to become apparent around ISO 400, but even at 800, the levels are not too bad.
The face detection system was fast and accurate, and Canon has cleverly combined it with the self timer. So, instead of setting the self timer and then racing to get in the frame, you can set up Face Self-Timer and then nonchalantly stroll into position, because the Ixus 980 won't take the shot until it detects an additional face - yours. We tried it and it works well, although be warned, in this mode, the 980 fires off three consecutive frames. Macro shots were impressive too, as was the continuous shooting mode of around 1.3 f/s.
However, there were a couple of disappointments. We wish Canon had given the Ixus 980 a lens with a better wide-angle setting. Yes, there is a panoramic feature that will help you stitch a spread of shots together, but you shouldn't have to deploy this in order to squeeze in a little more side detail. Red eye was a problem in a number of shots, but that said, the Ixus 980 has one of the best red-eye correction systems we've used, allowing you to select individual eyes for processing.
Verdict
There's a lot to like about the Digital Ixus 980 IS, not least its ability to produce really good images. There's enough automation to help the beginner produce good results and enough manual control to satisfy many enthusiasts who don't want to step up to a DSLR. After the disappointing performances of the 960 and 970, Canon is back on track. ®
More Compact Camera Reviews...
| | | | |
| --- | --- | --- | --- |
| Nikon S710 | Sony T770 | Canon SX110 | Samsung NV4 |

Canon Digital Ixus 980 IS compact camera
A pixel-packing camera that offers lots of automation, with a good dash of manual control, not to mention an impressive performance.