Seagate customers swamped by Barracuda drive failures
Seagate firmware to blame
Update An update to this story can be found here
Seagate 1TB Barracuda drives are failing at an alarming rate, with users complaining of a plague of such failures spreading across the globe.
Barracuda 7200.11 drives made in Thailand (ref: ST31000340AS with firmware level SD15) are failing at boot time with a firmware error that is said to lock the drive up and render it inoperable. Seagate's warranty procedure for failed drives has been used by owners, with an RMA (Return Merchandise Authorisation) number issued for the failed drive to be returned to Seagate and replaced. However, replacements were said to be of the same type, and so prone to the same error.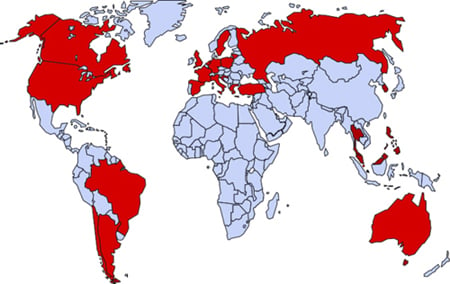 Countries affected by the Barracuda firmware failure. (Map from user DerSnoezie on MSFN forum.)
Users seem convinced, energetically so in some cases, that the incidence of such drive failures is far higher than the statistically low incidence of failures to be expected with any drive.
Data can be recovered from a failed drive by using a data recovery firm which, of course, costs money that Seagate will not refund. For example, you could use i365, a Seagate company, to get your data back and pay Seagate twice - once for a disk to store your data on and a second time to get it back when the drive fails. Perhaps Seagate could issue special i365 vouchers to customers with Barracudas bricked by the problem?
As always users should backup their data, but there is an obvious additional problem here. What happens if you backup to disk and the backup disk is also a Barracuda 7200.11?
A 17-page thread about this firmware failure problem is going strong on a Seagate forum. Frustrated users have complained that postings and threads have been removed by moderators.
There was no Seagate Knowledge Base article about how to fix the problem. All it showed in response to a search on the topic are product overviews and references to forum postings which say that there is a problem.
Seagate recently reduced its bare drive warranty period, raising some doubts about product quality standards.
Update
Following these complaints, the company has issued a statement saying it has isolated a firmware issue that may be causing the problem, and it has offered customers a free firmware upgrade. The issue causes data lose, the company will also provide free data recovery services.
The company issued this statement: "Seagate has isolated a potential firmware issue in certain products, including some Barracuda 7200.11 hard drives and related drive families based on this product platform, manufactured through December 2008. In some circumstances, the data on the hard drives may become inaccessible to the user when the host system is powered on*. Seagate is "offering a free firmware upgrade to those with affected products. To determine whether your product is affected, you can visit the Seagate Support web site here.
Support is also available through Seagate's call center, which can be reached via this number: 1-800-SEAGATE (1-800-732-4283).
The statement continued: "Customers can expedite assistance by sending an email to Seagate (discsupport@seagate.com). Please include the following disk drive information: model number, serial number and current firmware revision. We will respond, promptly, to your email request with appropriate instructions. There is no data loss associated with this issue, and the data still resides on the drive. But if you are unable to access your data due to this issue, Seagate will provide free data recovery services. Seagate will work with you to expedite a remedy to minimize any disruption to you or your business."
You'll find a list of international telephone numbers to Seagate Support and alternative methods of contact here.
The company emphasised that there is no safety issue with these products. ®