Fantasy author hired to pen Doom 4 plot
Kill monsters, find keys, open doors, and..?
The author of a number of well-known fantasy/horror novels has been signed up to help pen the plot for Doom 4.
It's been known for some time that the game's original creator, Id Software, had planned to make a fourth installment in the first-person shooter series. But the firm's kept mum about the latest incarnation's storyline, leaving most fans to assume that it will pick up where Doom 3 left off.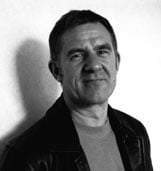 Graham Joyce: still a Doom buff
However, Graham Joyce - British author of The Limits of Enchantment, The Tooth Fairy and Smoking Poppy - has since said on his official blog that he's "been hired to contribute to the storyline of Doom 4".
Joyce hasn't revealed anything about the storyline, but has tried to put the fears of any gamers thinking 'What the f***k does he know about Doom?' to rest by stating that he often casually mangles a few demons in Doom.
We're expecting big things from you, Joyce. ®