Russian 'Cheese Board' = F-35 chopping block?
Kopp's analysis has received a lot of play in the Australian and trade media over the years - the two-man-band Air Power Australia website is sometimes referred to as a "think tank", for instance - and has often been pointed up by the many foes of the F-35. This latest report has received a sympathetic hearing from such an eminent figure as Bill Sweetman, doyen of aerospace journalists, editor of Defence Technology International and frequent thorn in the side of the F-35 programme. Others on the death-tech beat have also treated Kopp's latest attack on the F-35 as respectable commentary.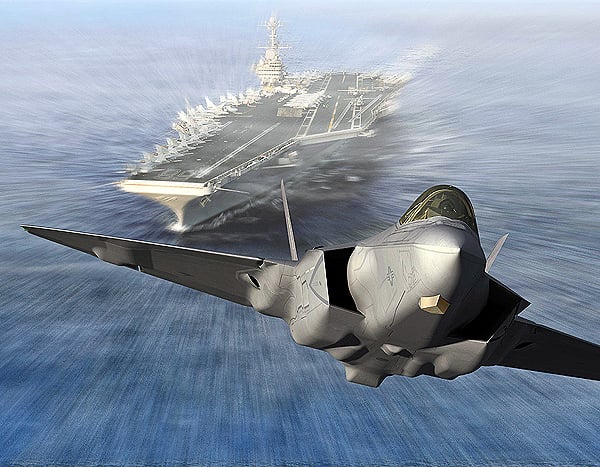 ...now you don't. But Carlo Kopp says this is the plane's only stealthy aspect.
We here on the Reg defence desk quite frankly don't know enough about modern high-tech air combat to say whether the F-35 will be able to defeat enemies equipped with strong batteries of SA-20 and SA-21 missiles, backed up with "Nebo" and "Cheese Board" longwave radars. We couldn't say, as certain Australians have claimed, that the jet would be "clubbed like a baby seal" by Chinese Su-27 Flanker fighters, or contrariwise blast the commies with impunity from long range as its makers claim it would.
We suspect that even in the privileged world behind the security curtain, with full access to information from international air combat exercises, full access to sophisticated simulations and models and top-secret tech specs of all the technology, people still don't know as much as they think they do. The assembled air-war brains of various heavyweight governments, with access to all the secret poop going, get things wrong as often as not - the British establishment famously declared manned fighters obsolete in 1957, for instance.
Nobody really knows how good combat kit is until after it's been used for real in a shooting war - often enough, not even then. Military establishments frequently learn the lessons they wish to learn, rather than genuinely trying to work out what happened*.
So it's hard to say for sure whether Dr Kopp is right in what he claims. As Bill Sweetman points out, the F-35 project chiefs will simply say "he's wrong, but we can't tell you why - it's a secret, you'll just have to trust us", which won't add much to the argument.
There are a few things, though, which might be relevant and which we do feel able to point out.
First, Dr Kopp is highly qualified on radio and electromagnetism but not on Stealth as such. (Though he did do a concept design of a stealth plane while an undergraduate; nobody can doubt his enthusiasm for the subject.) Kopp's primary professional expertise and academic training is actually in wireless digital networking and computer architecture: he has never had access to authoritative technical literature on low-observable aircraft design.
Second, Dr Kopp's track record on weapons-tech prediction is not stellar. He went on record in 1996, for instance, with the opinion that electromagnetic pulse bombs are childishly simple to make, and would soon be a common threat...