This article is more than 1 year old
Fisker shows Karma Sunset in Detroit
Electric car firm's Waterloo?
'Leccy Tech Fisker used the Detroit Motor Show to unveil the final production version of its Karma electric saloon and tantalise assembled onlookers with the first showing of the convertible Karma S – the S standing for Sunset.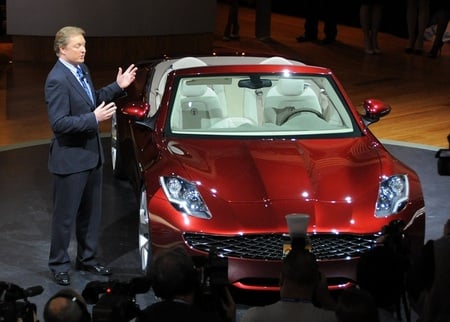 Fisker's Karma S: pretty as a sunset?
OK, it's not a whole lot different from the images we've seen before - a slightly re-worked nose aside - but any excuse for a quick dollop of auto-pr0n before the weekend...
Fisker also announced that it currently has 1000 pre-orders for the Karma and that the first cars will hit the street during Q4.
The Karma is driven by two 150kW electric motors – equivalent to 403bhp - connected to a lithium-ion battery pack, and a 265bhp four-cylinder turbo petrol engine sourced from General Motors.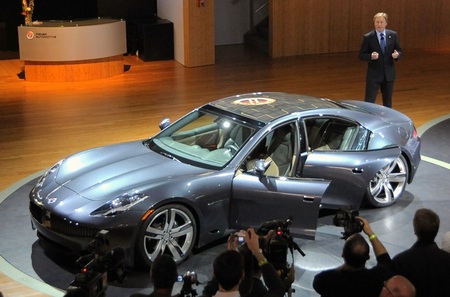 The Karma: goes like the proverbial off a shovel...
In 'leccy only "Stealth Mode", the Karma can get from standstill to 60 in 5.8s, tops out at 95mph and can run for 50 miles.
In "Sport Mode" – with the petrol engine driving the generator – the Karma will do 125mph and has an effective range of 300 miles.
Phfwoar. ®