This article is more than 1 year old
iPhone App Store breezes past 500 million downloads
iFlatulence boost
Apple's website today trumpets that "There are more than 15,000 apps on the App Store, and so far iPhone users have downloaded an incredible 500 million, in every category from games to business."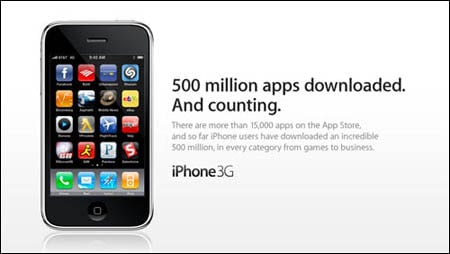 Approaching McDonald's-hamburger territory
While many of those apps have the questionable utility of iFart and Wobble, the sheer speed of this "Damn the Meltdown, full speed ahead!" growth - up from 300 million apps in early December - is inarguably impressive.
AppleInsider has done the math so you don't have to: iPhonies are now downloading 4.76 million apps every day.
No matter how you cut it, that's a breathtaking burst of iFlatulence. And, to be fair, people are also downloading truly useful apps such as Jaadu Remote Desktop, Smart Dial, and SimCity.
While you're marveling at the fact that the App Store has distributed 500 million touchable toys and utilities, remember - as we wrote when we reported the 300-million milestone - "You'll notice that we said 'distributed,' not 'sold,' seeing as how Apple's ads don't distinguish between paid and free apps."
What's on your iPhone? ®